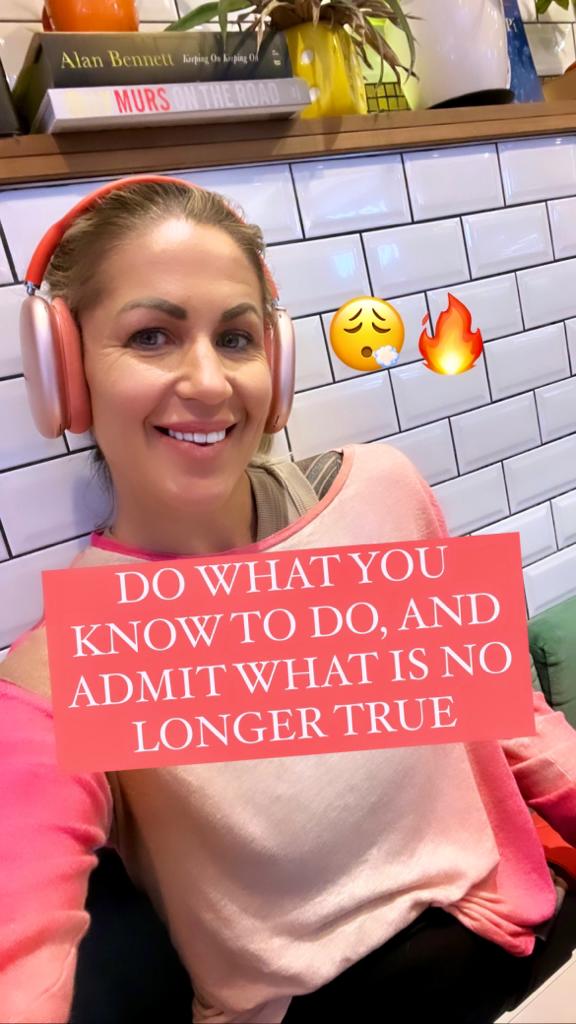 When God strips something from you, it begins to fade and dull, it becomes apparent it is no longer FOR you, and that is just –
truth –
there may be this period (if you are anything like me!) where you kinda sorta almost MAYBE convince yourself that 'nah … I can keep this thing on the d-low, or just a little bit, and it's all good; surely God didn't mean FULLY BE DONE FULLY BE DONE IT IS JUST FULLY DONE!'
Me, I am simultaneously in daily DECISION to willingly obey God, and I fully believe and KNOW my path of destiny is best kept under his direction and so I joyfully CHOOSE to submit and sacrifice my self each day …
but in some things? I just think I can't have heard right ;).
Example:
You are HS led to and also COMMIT to God stripping your business back and making it of Him, and then next minute when something you have sold for years just … isn't … but you know it's not like it's ANTI God, it's just BIZ-NIZ for goodness sakes, and so you convince yourself for a few extra weeks of NOT-fun pushing that 'it should be fine', when actually?
He just said no. Or is not IN it. Or is simply waiting til you DROP it, so He can lead you to the thing which IS the thing, which also, by the way – is where the results are that you were scared of losing.
And then you remember that oh oh OH, you DID say 'strip it all back and let it be of Him' and so therefore … that's what's up. Even if the other thing was not 'NOT God' per se, it just was not FROM Him and so, well –
no.
Next example:
You have relationships which simply, point blank, don't have God in them. And now that you are fully in HIM and He in YOU, it is just … GLARINGLY OBVIOUS THAT THIS IS NO LONGER A FIT.
"But surely surely it just means dial it BACK a lil bit? Because surely surely you would want me to be a connection point to YOU Lord?!"
So basically you just forgot that God is God and He will speak to any person He needs to how he sees fit, and unless He directly TOLD you stay close to or be close to that person … it may not be you … or it may be that your WITHDRAWAL is what led them to Him!
Either way:
what's obvious is obvious, and when something is no longer THE thing IT IS OBVIOUS AND MAYBE JUST CATCH UP.
Next example:
You have a great little lead gen or biz growth thang going on and it just makes SENSE to set and forget that baby, why wouldn't you keep doing it?!
Except it's just now … not working. And somehow … it's exhausting. Even though … it's really pretty simple + straightforward to keep going, so you should just GET AFTER IT because it makes sense and, well, if you don't it might cost you!
EXCEPT IT IS COSTING YOU WITH EVERY BREATH YOU KEEP PUTTING INTO SOMETHING GOD IS NOT BREATHING ON!
And while you battle and fight and tire yourself out fiddling with something you think needs to get you a RESULT –
He is saying
"but I have a whole different result for you over here. Anytime you're ready now!"
Meanwhile –
you have this clock ticking inside of you sort of a situation, a drumming, a thrumming, a humming, and what it's saying to you is hm, well, hm –
WHAT IF I JUST DID THAT?
What if I just whipped this thing out, threw this thing out, blew this thing up, went over here, met some people there, looked up and realised God was opening doors every which way to the NOW –
friendships
client-ships
relationship
stewardship
and money and BUSINESS ship which you get to Captain led by Him!
And it's just …
maybe you said you were done with that
maybe previously you couldn't be bothered with that
maybe it seems like it's beneath who or what YOU (key word!) worked your way to being at this point
maybe it defies all usual business niceties, societal niceties, whatever niceties
MAYBE IT'S TOO OBVIOUS AND SO YOU KEEP LOOKING FOR SOMETHING MORE FANCY-LIKE
Or maybe,
it just doesn't quite sit right in the 'I live by fear over here bc what if God don't got it' system you got going on.
Hm?
Hm!
So, what to do? What's a God-lovin' and God-fearing gal who realises she just doesn't have it in her anymore to NOT be all about Him in EVERY way to do?
WHAT ELSE COULD IT BE.
Hands up in the air.
Scream and shout and let it ALL out if need be.
And then DO A VICTORY DANCE AND TESTIFY IN ADVANCE LOOK WHAT GOD DID, BECAUSE HE IS ABOUT TO MAKE IT OH SO ACTUALLY STRAIGHTFORWARD FOR YOU.
"Lean not on your own understanding,
in all your ways acknowledge Him,
and He will direct your path".
> when you look into what a DIRECTED path is, it actually means straight, smooth, the way clear.
So in short …
if it's not feeling that …
then YOU are not feeling this:
When God said He's got you?
He's got you.
So stop THINKING so much.
Stop RESISTING what you know you ARE gonna succumb to.
And make LATER,
SOONER,
as you admit:
It's time to do what I know to do, and admit what is no longer true.