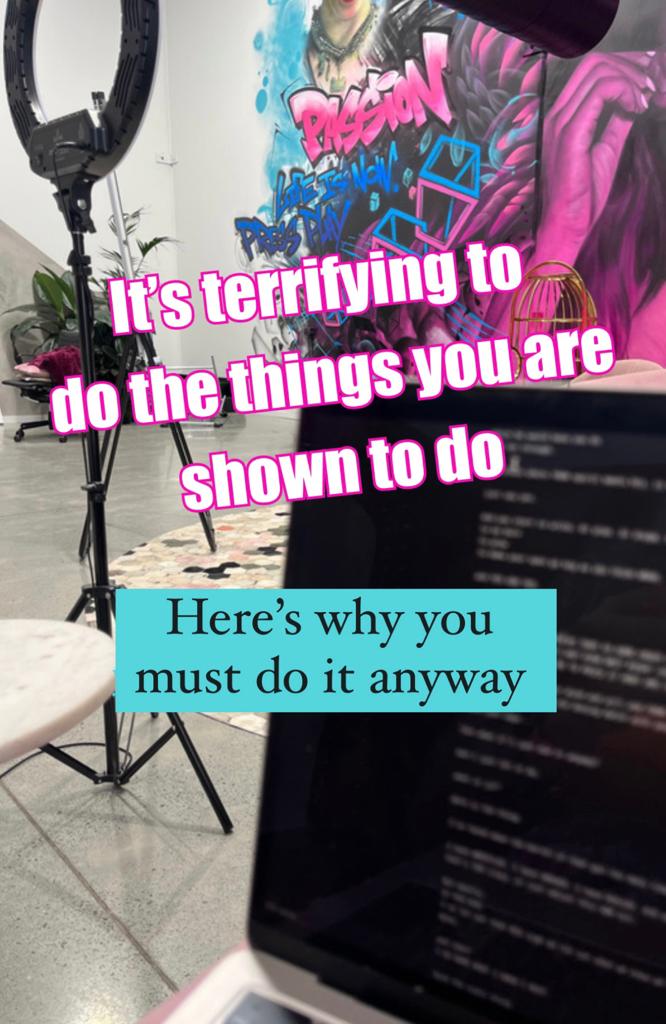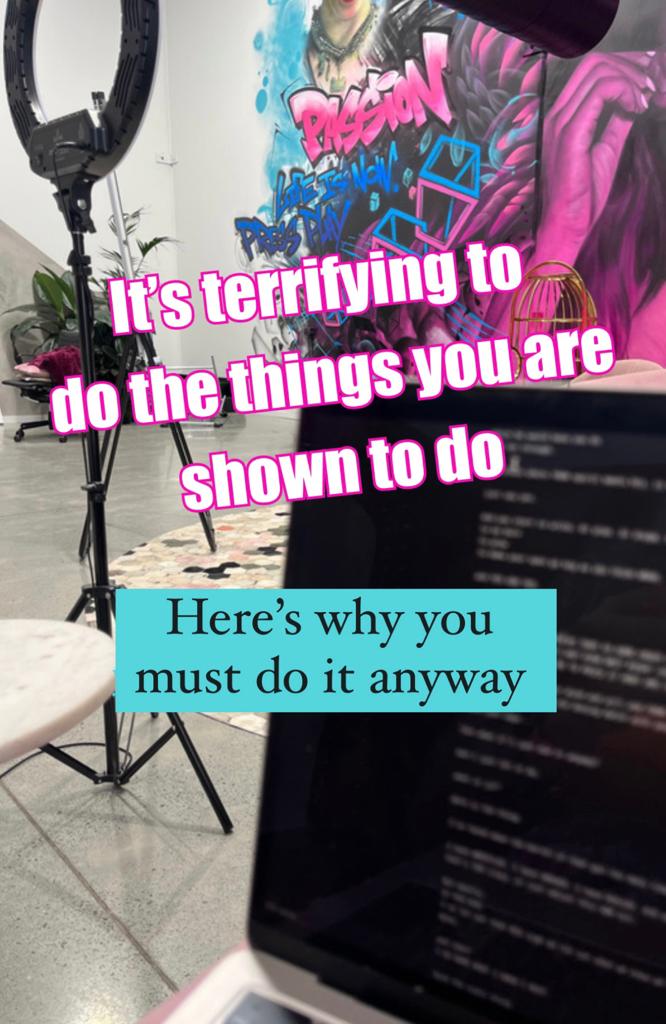 It's terrifying to do the things we are shown to do, so much of the time.
The reality is that even when you have years of experience at 'backing the crazy' i.e the thing which makes NO FREAKING SENSE yet it came FROM the place we sense … our spirit, our inner knowing, our CORE …
it's still terrifying to once AGAIN be that person who is picking up something that defies ALL possible rules or logic, on top of it feels like a possible sabotage or destruction of 'thing you thought you were doing and SHOULD do', and also is just UGH –
vulnerability hangover vibes all over the place as soon as you put it out!
No? Just me?
I've been doing this stuff for 17 years on the internet.
And many more prior to that, in different ways.
In fact … and I suspect that if you're here reading this then this is you too … for my whole LIFE I've been the girl who would SENSE something start to build within her, dismiss it at first in her MIND because – silly, or pointless, or gonna be confrontational or put me on the spot, or just NAH – I made that up – and then the BUILD up would start, YOU know …
that tension that just won't quit and keeps.on.going. til it GETS us, til it gets the good ones, the ones who LISTEN, anyway, and eventually?
POP BANG SNAP CRACKLE WHATTTTTTTTTTT DID YOU JUST SAY GIRL?! Best you go run and HIDE right now now now!
Like the time in Year 9 science class I couldn't hold it in and got up to argue creation over evolution because what we were being taught was just WRONG.
Or the time on a camping trip 20+ years ago I cracked it with all of my friends about something my spirit was just RAILING about, and stormed off into the night … only to be stuck spending the next 5 days full bush / off grid and having to work through it (good lol).
Or the many times as a very small kid I've been told I'd look at adults, sum them up with a cool up and down analysis – SENSING – and dismiss them with one glance. My poor Mum.
Or the 77 bajillionty times on the internet I've done or said something that resulted in the entire online coaching space at the time losing its collective shit … except the RIGHT ones coming running to me like YES KAT YES, HOW DID YOU JUST SAY WHAT IS IN MY HEAD AND NOBODY EVER SAID!
Hot tip: if you can just be the person in your field willing to say in public what you'd otherwise keep private … prepare to watch things blow up. Just don't expect it won't be a lil messy on the way. And for the love of God DON'T MANUFACTURE BEING POLARISING. It's SO OBVIOUS and just … no. You have real things to let out. Let THOSE out.
But here is the other part of what I'm talking about. Because I certainly don't just mean the confrontational / won't back down stuff. In fact what I was actually thinking about was very much NOT that.
I'm talking about the time you drop in with your own spirit and inner knowing, or – WAY BETTER STILL – with God and HIS Spirit,
and because you have rightly surrendered your right to do or think or make or sell a thing, or build or forge ahead a business or a life YOUR way, in your MIND, WILL, EMOTIONS, i.e. SOUL …
a thing springs through
once not seen and all of a sudden OH
and it makes ABSOLUTELY NO SENSE when you look through a lens of your MIND,
or 'SUCCESS'
or 'WHAT PEOPLE WANT'
… yet it makes ALL the sense and in fact sense is not even a QUESTION it is a KNOWING,
when you simply,
stay in.
In?
In the place where you dance with God and He reveals to you,
the things
which He would have you do
and let through.
The place where YOUR spirit meets His, is fed and rightly LED by His, and YOU –
just say yes.
And you start to write. Or plan. Or dream. And you ALLOW thing, previously not SEEN,
to be born
to grow
to make your eyes go big as you think WOAH,
and YES GOD YES,
but then?
SNAP BACK DOWN TO EARTH BC THAT IS SOME CRAZY CRAZY YOU GOT ME PUTTING TOGETHER GOD, AND WHAT DOES THAT HAVE TO DO WITH ANYTHING, AND IT'S NOT EVEN WRIT RIGHT (YEAH I SAID WRIT), AND BESIDES IT MEANS WHAT? AND WHAT? OH MAN! I CAN'T DO THAT! AND YOU WANT ME TO PRICE IT HOW? ARE YOU SURE? OH MANNNNNNNNN!
And so you WRESTLE. Your mind and will and YOUR idea of 'sense' … which by definition, FYI, does not exist in the MIND … having a good ole boxing match with your spirit and your KNOWING,
which just says –
"but what if I just did it anyway?
And I just let it be,
what it is?"
Here is the thing.
I've faced down the barrel of that gun too many times to remember in business, and in life.
I have WRESTLED. I have ARGUED. I have RAILED. And at times I have IGNORED, because fear or SO-called logic said that's TOO crazy, or just adjust this ONE bit.
But mostly,
in the end,
I've let out that BIG sigh we let out when we know we're about to stir something UP and it's just gonna have to be done,
and then?
Said the scary thing.
Pulled down the proper thing.
Asked the risky question.
BACKED what I was shown.
And what I was TOLD,
not what I THOUGHT,
and NOT WHAT I HAD EVIDENCE I COULD SEE AROUND.
Do you actually get what faith is? Do you know?
It's the substance of things once hoped for. The evidence of things not seen.
And the things which now ARE,
once were not.
And so what if …
you just started to say yes to the evidence you don't see,
and back what you do not yet know,
but are SHOWN.
You can either keep building in the 2+2 = 4 and that is IT world.
The things you already see and which make MIND sense must be right.
And you will well build … something.
Or?
You can throw SO called caution to the wind because really what we're talking about is backing TRUTH,
and just DO THE THING YOU'RE PULLED TO DO.
Either way,
just remember –
Life is Now. Press Play.
Kat
PS.
Big exhale.
BIG big exhale, and UGH – VULNERABILITY HANGOVER BUT LET'S GO.
Here is the thing I've been pulled to do,
and to which I say yes.
God had me make this,
for you.
It changes everything.
www.thekatrinaruthshow.com/thesecretgarden