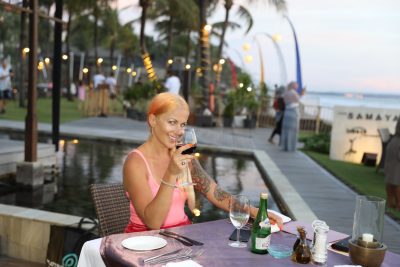 Success Mindset
WANT MORE? SWING THE BAT FREAKIN' HARDER THEN, AND QUIT YO BITCHING!
Here is a practical reality of making ALL ze monies, and fast:
If you want more, then guess what m'love?
Gonna need to ask for more.
Gonna need to keep on asking.
Gonna need to back that asking with more asking.
Gonna need to infinityX ALL of that shit.
And gonna need to do it regardless of what sort of high school drama your emotions are getting into about it.
Really, I don't care HOW you ask, but if you're not asking (survey says!) you are VERY unlikely to RECEIVE.
It's just a THING, you know …
About life?
Yeah.
I mean, SURREEEEEE … maybe you're gonna be one of those one in a gazillion people who waltzes into a bar in Sydney one day and ends up married to a Prince, but then again who is even to say she didn't manifest the FUCK out of that? And besides which –
Do you even WANT to be a princess and have to fulfil all those DUTIES?!
Okay, okay, my analogy is getting me a little distracted, but I think you get my point!
And here is what I know for sure. About you. About money. About you and money being more in FLOW together. About you RECEIVING more money. All the money! Cash money baby! Anytime you WANT!
You really
REALLY
Aren't gonna see that shit turning up for you if you're not going all in to get it.
So if you want more, you want it now, you want to wake up every morning and see your coffers just CHOKING, then guess what? SWING THE FUCKING BAT HARDER BABY, AND QUIT YOUR BITCHING.
Could be the INNER WORK bat you needa swing harder.
Could be the MESSAGING bat you needa swing harder.
Could be the ACTUALLY FUCKING SELL SHIT (daily!) IF YOU WANNA GET PAID bat you needa swing harder.
Could be the BE EVERYWHERE, ALWAYS, AND TELL 'EM TO BUY bat.
Could be all the bats!
You definitely know which one, or ones, as you're reading this though, THAT'S for sure.
And maybe you've been doing the inner work thing for a while now, because you were ALL about that grind and hustle, and you didn't realise you CAN LITERALLY JUST THINK AND GET RICH, so you flipped into thinking, into visioning, into manifesting like a MOTHERFUCKER and realising that abundance flows when YOUR ass is in superflow and that there is nothing you need to DO, ever …
… but then again you're really not doing jack.fucking.shit (or much more than at least) and you're just quietly starting to suspect you is LAZY.
So maybe you need to come out like a bat outta hell with your marketing, your active hustle, your HERE I AM AND HERE'S WHY YOU SHOULD BUY FROM ME, NOW!
Maybe it's that.
Or perhaps you've been yipping and yapping all over the internet for God knows how long now, popping up in every damn Facebook group like a (ahem!) desperate jack in the box (I see you!) and wondering WHY IS NOBODY BUYING WHEN I'M EVERYWHERE AND KAT SAYS IF YOU MESSAGE AND SHOW UP YOU'LL BE A MILLIONAIRE –
(well –
not exactly)
– and you are NOT so quietly noticing that continual –
never-ending –
feeling of being a DESPERATE NEEDY SAD SACK CROWDING UP SPACE ON THE INTERNET –
And maybe you need to GO WITHIN and listen to your soul's desires and guidance and make it ALL about the inner work and shifting your identity for now, and maybe THAT is your bat swingin' to do.
Probably –
It's gonna be a mix of both.
You gotta BE that next level vibration version of you who KNOWS she creates ALL results from within and that the NUMBER one thing, ALWAYS and ONLY, is to be in freaking FLOW, honouring your soul desires and responding to inner guidance –
Whilst also owning your LEADER energy, aka QUIT SHEEPLING AROUND FACEBOOK –
AND you've also gotta ask for the damn sale.
Deliver value on repeat in doing so.
Put in the damn WORK.
You know?
It's simple MATHS, if you want to make more money, just ask more often to get paid and receive.
Some of the asking is internal.
Some more 'practical' in terms of actually posting shit.
Both equally important.
But what you CAN'T expect to work is neglecting one area –
Or else just flat out neglecting being the person who wants it badly enough to not stop till they get it.
SUCCESS, when you think about it, is actually VERY fucking simple.
BE THE PERSON WHO WANTS IT BADLY ENOUGH TO NOT STOP TILL THEY GET IT.
That's all.
Remember –
Life is Now. Press Play.
Kat
Life is Now. Press Play.
Kat x

PS
I want to help you to build a business you LOVE, and that meets your every want and desire, in a real and true way, whilst also resulting in you making a LOT of money, fast, and impacting a lot of people, also fast, in the way you know you were born for!
My most transformative 1:1 intensive EVER … shifting people into EPIC income and success since 2016 is back, for the first time in 2019! I'm so excited to bring this signature transformative work back!
Rich Hot Empire!
Work With Me for 6-Weeks Personally to Grow Your Perfect Cult Tribe, Create and Launch Your Low-High End EMPIRE, and Set Up Multiple Recurring Income Streams to Take You to Multiple 7-Figures and Beyond, Doing What You Love!
This round is even more special as I will be re-recording all original content, with you there live with me and alongside me AND you will also receive all original content; the exact trainings which has made this program my most successful ever, with clients repeatedly saying they achieved more in 6 weeks with me than they had in 2 YEARS beforehand! This work is for entrepreneurs at ANY starting point, as it's about who you are as a person not where you're at. I've had clients anywhere from total start-up, to already doing 500k+ / year go through Rich Hot Empire and all who have done this work have gone to a level of income as well as alignment and FLOW which they couldn't previously even imagine!
6-week personalised intensive high level mastermind
Weekly group training and support; multi-media training: visual + audio
'Done for You' Templates and Step-by-Step Worksheets
Personalised 1:1 coaching included, plus DAILY unlimited 1:1 access
My personal hand on your business success
Weekly group coaching call and hotseat with my other private clients
24/7 mastermind forum, networking and support
Very limited spaces
Results guaranteed
Not for everyone
STARTS THIS MONTH!
I'm so excited to do this work with a small group of badasses who are willing to SHOW UP FOR THEIR SOUL no matter what. To walk away from all that is not serving, not actually working, not FILLING you. And to all yourself to bring your truest desires to life. If that's you, or you've felt the call to work with me at this level, PM me now. Bonuses and fast action-taker investments apply to all successful applicants, but for the first 5 to say yes there is a very special $2000+ bonus specific around Soul Shifts & Money Makin', and which, in and of itself even before we begin RHE will have shit changing for you FAST.
Apply via PM only. I can't wait to speak with you!
PPS
HAVE YOU JOINED PURPOSE PASSION FLOW ACADEMY?
My 'Going Fully Quantum' training will break down ALL of what we've discussed today, and teach you the finer details and finesse of it, as well as exactly what needs to be true for you to APPLY it, not only into the practical actions you need to create THAT money flow and THOSE results, but also in terms of ALL the energetics of it, especially the 'being and non-being' around dropping in to superflow so you can be shown, create, receive, AND of course the being around not being one of those people who just can't seem to choose faith and are ruled by fear. We'll also talk about creating and integrating the exact wording, beliefs, emotions, energies YOU need for all of this to switch effortlessly for you, as you've always known it would.
In other words: EVERYTHING you need to know to go fully quantum, and double your income in 30 days or less, or whatever else you choose!
Where will you find this training?
Why, it's one of the very first training in 'Remembering Who You Always Were', which. is our June intensive for Purpose Passion Flow Academy, my SUPER low-cost monthly membership mastermind!
And this training?
Will change your freaking reality. Well – it will REMEMBER it.
It's all available to you gorgeous.
You know this already.,In the quantum it is DONE. And in Purpose Passion Flow Academy, and especially our June intensive 'Remembering Who You Always Were'? We gon' done do it.