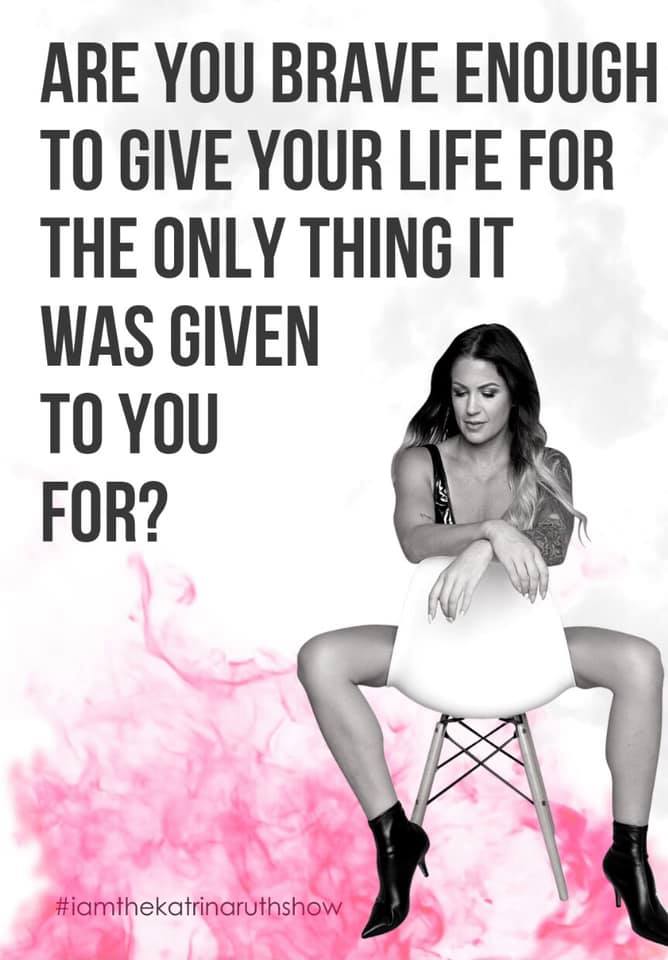 Purpose
LET IT BE EASY TO CREATE YOUR LIFE'S WORK
It's time for you to release the idea of it being big, fancy, an extra special deal, or out of reach, for you to become the person who simply wakes up each day, and does their life's work.
You have it up on a pedestal, don't you?
The idea that one day you can be this thing … do this thing … become KNOWN for this thing.
You know you have it in you! Oh, that's not the concern! The truth is that in spite of your almost Olympic level RUNNING FROM YOUR SOUL WORK, at your core you do NOT doubt –
That you have what it takes to be the best, the VERY best, at being fully you.
I mean –
Who else would really have a chance at that title?!
And when you consider what that would look like, when you remove your own emotions and the bullshit conversation in your head around all the reasons why you CAN'T, the facts are simple:
You being fully you means you are doing the thing –
Of being the damn thing –
The thing of GIVING YOUR LIFE FOR WHAT IT WAS GIVEN TO YOU FOR.
In that place, it's not about whether or not you are 'good enough', or 'have what it takes', is it?
It's just –
This is how it is.
There's no other way.
THERE NEVER WAS.
So, really what we have here, is not as much a case of 'I don't know if I can or if I'm worthy', it's just a case of 'oh – I forgot to be fully me'.
You know –
That if you were being all that you are, the fully expressed expression of your SOUL, that it would simply be a part of your daily routine.
To invest time, energy, and emotion, in your life's work.
And through that consistency, allow a BODY of work to grow.
When you take all the dramatics out of it, that's all it is, isn't it? A little portion of your day in which you make space for the only you who you ever cared to be to take the reins!
And yet –
You make it SO much more fucking complicated than that for some reason.
Because somewhere along the way, you decided that 'doing the work' was one thing but that 'doing the REAL work', the work you were born for, is another animal entirely.
Bigger.
Fancier.
More intricate and tricky.
Not for the likes of you!
But let me ask you something –
What if you decided that doing your soul work, and creating your LIFE'S work, was EASY, and 'everyday'.
Just a thing you do.
In between the coffee and the gym and the laying or playing in the sun and the living of your LIFE?
This is not about not honouring the AWESOMENESS of what's inside of you, and what it can be expressed into! Fuck, if you actually do the damn thing your wildest dreams WILL come true and they WILL be beyond what you could have imagined! Yes, you can really live the life of your dreams, on your terms, and be known in THAT way and at THAT level for the incredible message you have to share!
THAT'S A BIG FUCKING DEAL!
But,
Because you MAKE it such a big fucking deal, you're NOT LETTING IT HAPPEN. Don't you see?! ANYTHING which we allow to live up on a pedestal, being worshipped and admired from afar as something which we can, if we're lucky, if we're extra talented or careful or precise, it STAYS UP ON THAT DAMN PEDESTAL.
Collecting dust.
And maybe a little rust.
But certainly never being SEEN, at least not by any person aside from YOU, and really –
Not even that.
Not very fucking useful, is it?
Not to the world, not in the way it was meant to be, but also, not in the sense of you allowing yourself even a SHOT at a fulfilled and happy life.
The truth is, you can climb to the highest heights of EVERY other mountain, and be the most successful person in the room, but if you don't do THAT then NONE of it matters.
Not really.
No, not at all.
It may well be impressive or accomplished to others, and certainly it may allow you to meet some of your earthly needs, but it's ALL JUST A BIG ASS SHADOW.
A shadow life,
Created because you were too scared to live the you life, the true life, the life you were told to live,
And never did.
So, what are you going to do about it then?
You gonna read this, and 'hell yeah', and shake your head at yourself, and make silly little promises which you don't mean AGAIN?
Or are you gonna take that damn thing down off the shelf?
HONOUR THE POWER OF ITS AWESOME, by all means.
But STOP making it such a big deal, or so fancy.
And just commit to giving a little piece of you each day for that?
The thing you have to understand, is that everything you're working SO hard to do to climb the hill so that one day you're good enough and ready for the real thing, will INSTANTLY not matter or be relevant or it will simply be GRANTED to you, once you do the actual thing.
This whole damn time you thought that the thing was the reward, the 'next level' which you'll be granted once you've done enough and fought enough.
But the thing was always the KEY.
Do the damn thing.
Do it now.
Do it without analysis, or over-emotion, or concern for how it's going to work.
Do it every day no matter what.
And watch the entire world open to you.
I promise you –
This is how it works.
And the truth is that secretly you've always known this, so right now you're starting to just look resistant AND stupid.
It's time.
Take it off the damn shelf.
It's TIME.