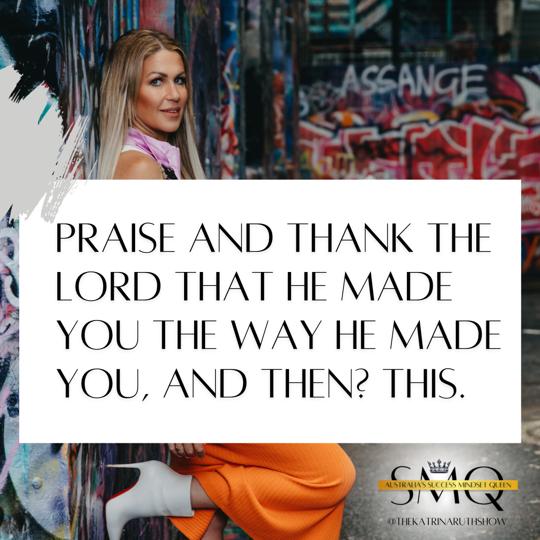 Purpose
PRAISE AND THANK THE LORD THAT HE MADE YOU THE WAY HE MADE YOU, AND THEN? THIS.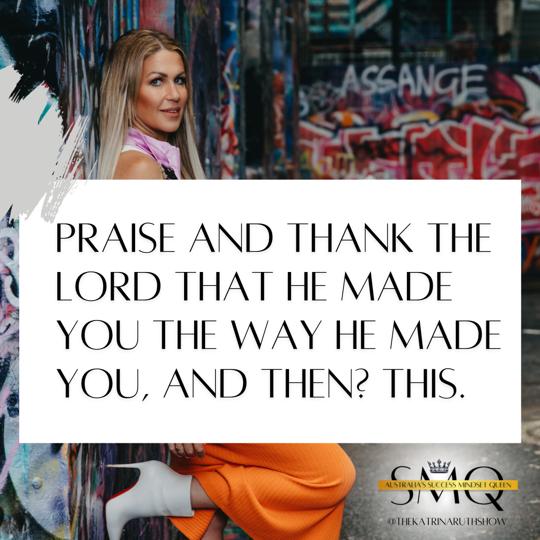 LEADER. This message is for you! Particularly if you are a POWERFUL entrepreneur and creator who is ready to own all that you came here to be. WITH BELLS ON!
Stop right now and PRAISE AND THANK THE LORD THAT HE MADE YOU THE WAY HE MADE YOU, with ALL of your
rambles
foibles
tangents
crazy
silly
funny
smart-ass-y
intelligence
TOO much-ness
curiosity
burning DESIRE
and perhaps most of all
– YOUR ENDLESS AND RELENTLESS NEED TO JUST KEEP RUNNING THE RACE.
But then I want you to STOP, hold UP with me, and answer this:
Right now, hand on your heart, if you HAD to –
could you honestly say you are running the race you came here to run?
YES girl I'm talking business today! But you know I'm talking God. Spirit. Soul. And every last fabulous bit of you being you.
And here are some business truths I KNOW you need to hear:
1) Your soul people, true people, YOU people will flat out not SEE you if you don't show up as all of you. You get to choose daily: am I gonna edit filter or critique myself for the 1 in 1000 people (max!) who won't love and be so freaking grateful for me being me … or am I gonna show up for the 999 who NEED what I have the way it comes out?
Newsfact: if you feel like these numbers are currently flipped for you right now I can guarantee it is because you're not SHOWING UP FULLY FOR YOUR TRUE PEOPLE. And thus you're attracting a mish-mash of NOT right peeps.
2) Speaking of critiquing of your work … that is not your job. You know I'm not saying don't make things pretty or functional or whatever suits and truly serves and is SHOWN! I'm saying … let the message be the message. Let it come out the way it comes out. TRUST IN BEING WHO GOD MADE YOU TO BE and also in doing every last bit of your biz-niz that way.
3) Sales. Have we got done with the bit yet where sales is a dirty word? Was this ever even TRUTH? No! Sure, some people suck balls at selling. Are you some people? No you are not! Own that! Own that you KNOW how to passionately share what is on your heart to share. Learn what you need to learn, but as far as the whole 'is it okay to sell all the time thing' … how would you feel if your fave coffee shop starting refusing to serve you because they already sold 3x last week? Rude! Also weird. Stop being weird by not selling all the gee-darn time.
4) Your best marketing and branding is YOUR particular style of, well, whatever your particular style is. Close your eyes and let go of ALL ideas of what you gotta have in place. What WOULD you have in place if you just created the thing like the artist you are? If you let TRUTH and true guidance be the filter, not 'does this appropriately worship the current gods of the internet'? lol. Speaking of which, stop worshipping false gods. Hehe. NOT HEHE.
5) Get your mentoring where your SPIRIT is fuelled, and add your skills on top of that. Sometimes you get it in the same place! Like on my free webinar next week – Foundation Principles for Purpose-Driven Entrepreneurs Who Are Called to Build a Million $ Plus Business! Sign up now at https://thekatrinaruthshow.com/milliondollarbizfoundations
Oh, and one last thing?
6) YOU CAN'T GET IT WRONG WHEN YOUR DAILY MODUS OPERANDI IS 'HOW CAN I BE MORE ME TODAY'? Starting of course with being plugged in to what you know ya need to plug into.