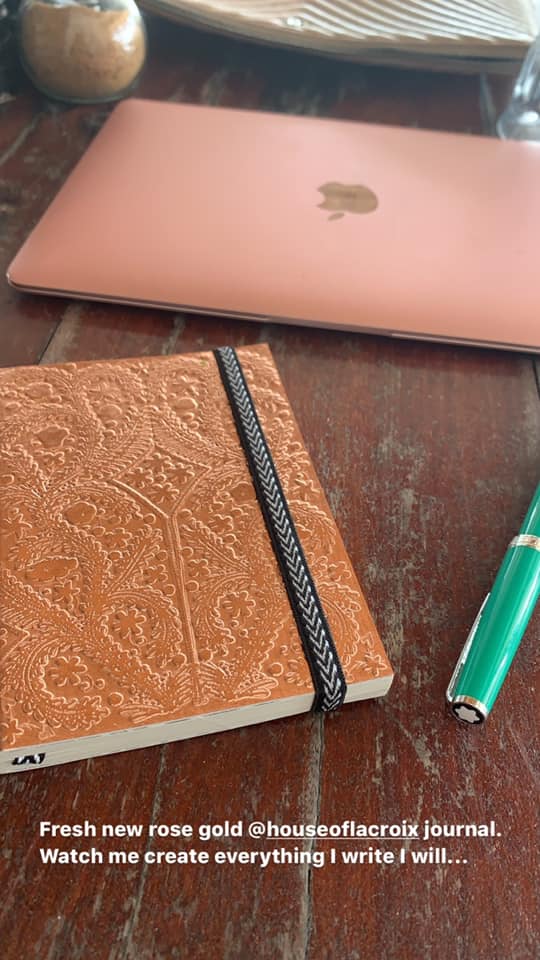 Sometimes I find myself questioning whether the things I really want or most long for will ever actually happen.
I wonder if maybe it's not intuition and soul and 'what is meant to be' that I'm dreaming of but instead the desperate and hopeless longings of a silly little girl.
Typically, the more I REALLY REALLY want and desire a thing the more I will feel like it is perhaps destined to be perpetually out of reach, taunting me with my not-good-enough-ness as I try and make do with a life without THAT, try to be happy or at peace or content with what I do have, who I already have become, how things are NOW.
I mean –
The practice of contented discontent is one we all should seek to go deeper with daily because reality gets to be that life IS always already perfect now. What a sad story if you didn't believe that, since now is all you have!
At the same time –
You are allowed to have DISCONTENT within your contentedness.
You are allowed to LONG.
And you are allowed to let yourself fantasise, vision, and bit by bit EXPECT those next level things to show up for you, because after all –
When we reach true and EXPANSION-led expectation (as opposed to needy contractive expectation which is not really expectation at all …) –
Well.
The thing shows up.
We ALWAYS get what we expect, that's just how it is!
So yes –
I let myself dream.
I PRACTICE being in the energy of expectation and it being done.
And I journal my little heart out, have done every day for decades now, and will never stop, naming and claiming down to the dot point the EVERYTHING I see inside of me and which I have not yet allowed myself to receive or allow or be in the physical.
I know how this shit works, I've been working it my whole life!
And I know also that it ALWAYS works, when you keep working it.
But sure, at the same time, with all manner of things, indeed I would say with MOST things along the way there have been periods where faith is tested for so long it starts to seem ALMOST believable that this thing might just not be for me.
And you think to yourself –
"I've been asking and being patient (well, kinda!!) for so long!!
What am I doing wrong and is it ever going to HAPPEN?"
The great thing is that FAITH is a practice, not a feeling.
Magic?
Kinda too.
You are never going to NOT experience times of doubt, uncertainty, fear, anxiety even as you imagine yourself NEVER becoming all that you fully know you're meant to be, and with each and every bit of your life playing out accordingly.
Newsflash, you're human! And that means you GET to experience the full gamut of human emotion.
This doesn't mean anything other than – you're human!
Gosh, sometimes it's not even YOUR emotion; you mighta picked it up in the air or something! Often it is a vestige of days of yore just shifting and sifting up from somewhere deep inside of you, nudging you perhaps to drop deeper into CHOSEN soul certainty … or to simply acknowledge and clear that energy for this moment.
In fact, you really do not necessarily need to analyse or figure it out! You can if you like. That can be helpful, or interesting, it's something to be softly curious about, to learn, to grow, but NO –
You don't need to make it mean anything, because guess what?
When fear is present faith can still take the reins.
When doubt is shaking your every cell, trust can still be in charge.
When you're so sad and worried or just OVER not being where you want to be, you can still lay claim to what you choose ANYWAY!
You can write it out.
You can tap into the vision of it, the energy of it, even just a little.
You can ask "what action would I be taking right now if I trusted and KNEW it was done, 'of course' ".
You can DO THE WORK OF BEING YOUR NEXT LEVEL SELF WHO KNOWS –
That if she just keeps going.
If she just adjusts her energy in, dials it in, a little more each day, bit by bit, with a PRACTICE of belief and surrender and expectation, that eventually?
THE WORLD MUST ADJUST ACCORDINGLY.
Why this does not work for most people is simple:
THEY DON'T FUCKING DO IT.
They stop-start.
And they think that belief is a feeling rather than a practice.
Today I urge you –
BE BIGGER THAN YOUR BULLSHIT.
Show up daily for the you who you are bringing to life.
Quit making it any more complex than this.
But also?
Quit kidding yourself that this is anything other than an err' day way of life.
As is everything –
Worth anything.
Don't forget –
Life is Now. Press Play.
Kat x

PS
Rich Hot Empire is open for January intake gorgeous! Oh my GOD, I am excited!
This is my most transformative 1:1 work EVER … changing the business, lives, and money flow of revolutionary leaders like you since 2016!
20 places.
6 weeks.
1:1 with me.
ALL in to grow your perfect cult tribe
Create and launch your NEXT level low-high end empire
and set up multiple recurring income streams to take you too to multiple 7-figures and beyond, doing what I love!
6-week personalised intensive high level mastermind
Weekly group training and support; multi-media training: visual + audio
'Done for You' Templates and Step-by-Step Worksheets
Personalised 1:1 coaching included, plus DAILY unlimited 1:1 access
My personal hand on your business success
Weekly group coaching call and hotseat with my other private clients
24/7 mastermind forum, networking and support
Very limited spaces
Results guaranteed
Not for everyone 😉
We gonna get more moving and RECEIVED for you in 6 weeks than what you have in the past 1 or 2 years, and that is FACTS. Don't be scared; you know you want it!
How to know if this is for you, working with me at this level, and going ALL in to kick the ass of 2020 before it's even started??
Your soul already told ya 😉
Rich Hot Empire:
Work With Me for 6-Weeks Personally to Grow Your Perfect Cult Tribe, Create and Launch Your Low-High End EMPIRE, and Set Up Multiple Recurring Income Streams to Take You to Multiple 7-Figures and Beyond, Doing What You Love!
20 places (first few sign ups nab extra cool bonuses, don't wait to message me!)
Starts late January.
Application open now via PM.
Not for the faint-hearted.
100-fucking-percent for those who were born for more –
and are ready to get in and do the damn work to create it.
It's time