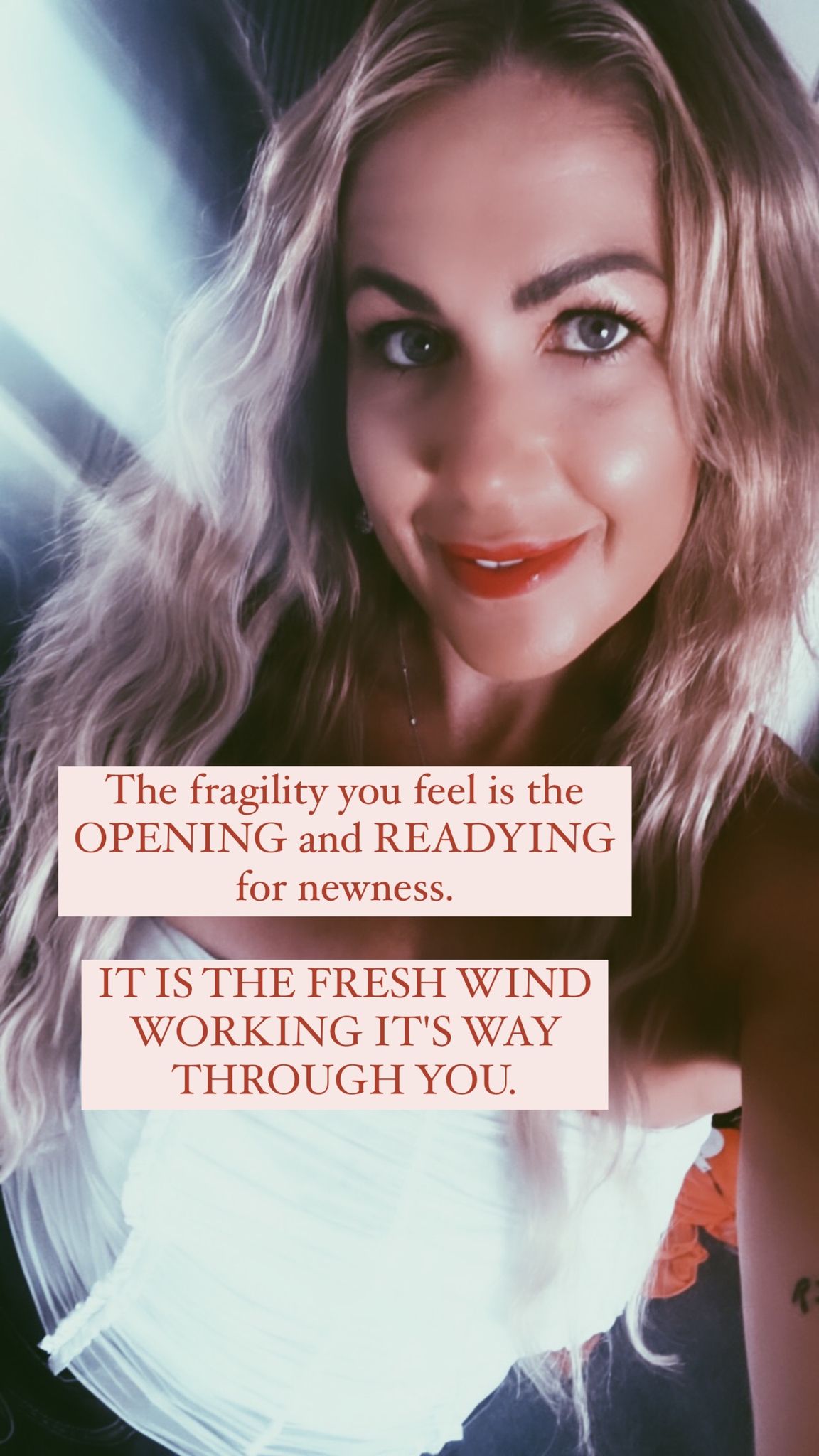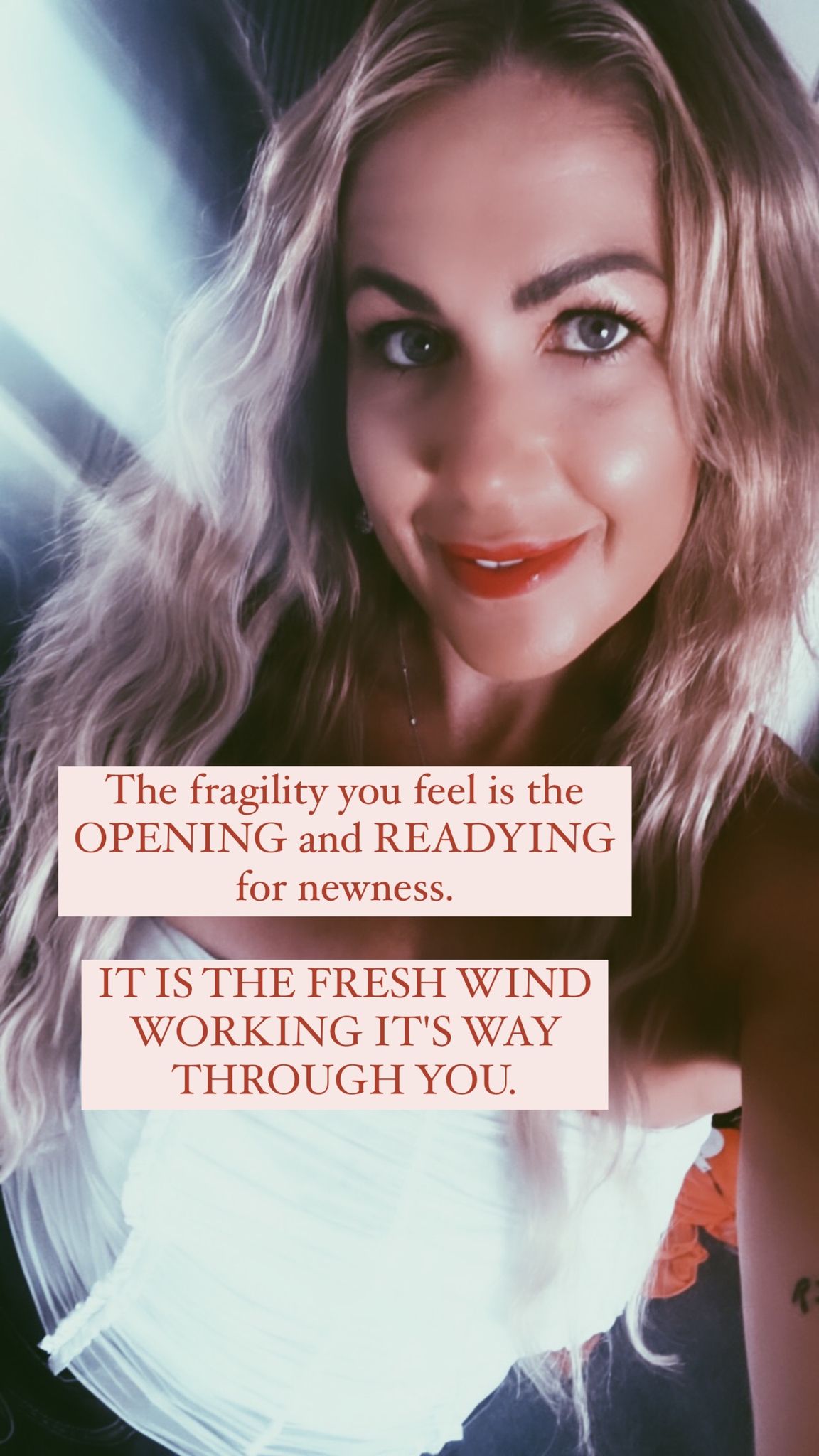 "Will you trust me?"
I bent over.
Fragility rising, already.
"Will you trust me?"
I took a deep breath.
Staring almost zombie-like into my own eyes in the mirror in front of me as I folded forward in the next posture, closing them tight as I lost sight of myself, feeling the almost immediate breaking loose of a sob, a cry, a freeing, a fear, and my immediate answer was "yes".
"Yes God". I will trust you.
The sob came up harder, I half fought to contain it, discarded that idea as soon as it came in and just allowed myself,
to feel.
The shedding.
The loosening.
The sadness.
And underneath it,
the hope.
Maybe I didn't hear that though? Maybe I made it up? Maybe God isn't really asking me to let go, to walk away, to put myself in the void, maybe I can have it both ways after all!
Instantly, again, and then again, and again still –
"will you trust me?"
Yes.
And yes.
And OMG YES.
When you finally agree to let go.
Of the thing or things you know are no longer for you, perhaps never were, or perhaps have just shifted,
changed,
their now,
when you finally take a deep half sobbing filled breath, listen to that whisper within which is telling you – "it's time" – or that voice of God which is asking you – "will you trust",
you will shake.
you will cry.
You will sob. Anxiety rising. A part of your mind tearing at you,
to retreat, telling you –
it would be SO much easier right now,
to go back into safety
comfort
and the lie
of 'ease'.
Yet,
when it's time
and you've had enough
can no longer face staring down the barrel of a certain continuation of what you already have,
added to
with more time
years
age
and the inevitable weakening
of belief,
and so thus
IT'S TIME
you will still say YES.
"Yes God. I will".
And what you will feel,
is this:
An immediate loosening.
An immediate lightening.
Energetic and even spiritual bondage
breaking free
CERTAINTY,
and the exhale
yes.
But
you will also notice that you feel fragile
and maybe weak
This is the bit where you simultaneously KNOW you have finally accepted God truth, his guidance, and allowed an opening for the possibility of all that actually IS for you,
can be,
and only should be,
whilst also more.than.possibly, and almost immediately –
having something come up to try and draw you back in.
This could be your mind sternly listing out all you're about to lose, or all the risks.
Or it could be some sort of temptation or so-called 'sign' relevant to what you're releasing. Prompting a worry that you maybe ARE doing the wrong thing after all.
THIS
is the bit where you hold firm.
Because this is what God wants you to know:
The fragility you feel is the OPENING and READYING for newness. It is the literal way-making of the space he is going to fill. It is the breaking loose of the chains which in a very real sense have bound you.
IT IS THE FRESH WIND WORKING IT'S WAY THROUGH YOU.
So you can retract in fear and discomfort,
if you like.
Because I know how easy it is for you to revert real quick to solidity in walls up, protective vibes on, 'this is what I get and so I'll work with that'. It feels comfortable. And safe.
Yet
it's a lie
and yet
you are tired
and yet
you are done
so the other option is:
WELCOME FRAGILITY.
WELCOME BEING TRULY CRACKED OPEN.
AND WELCOME,
FINALLY,
GOD'S WAY.
This is the point you've always known you'd get to one day, and what he wants to say to you is
Welcome home.
I've been waiting.
Come here my child.
You're safe.
Now breathe.
And cry.
And breathe.
And cry.
And then GO GET YOUR LIFE.