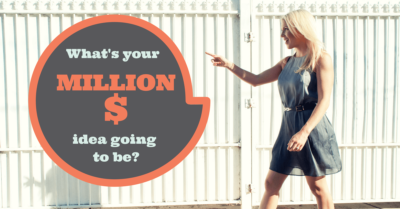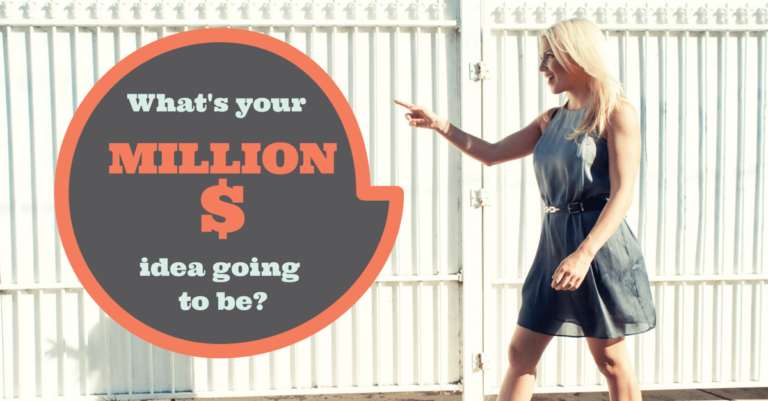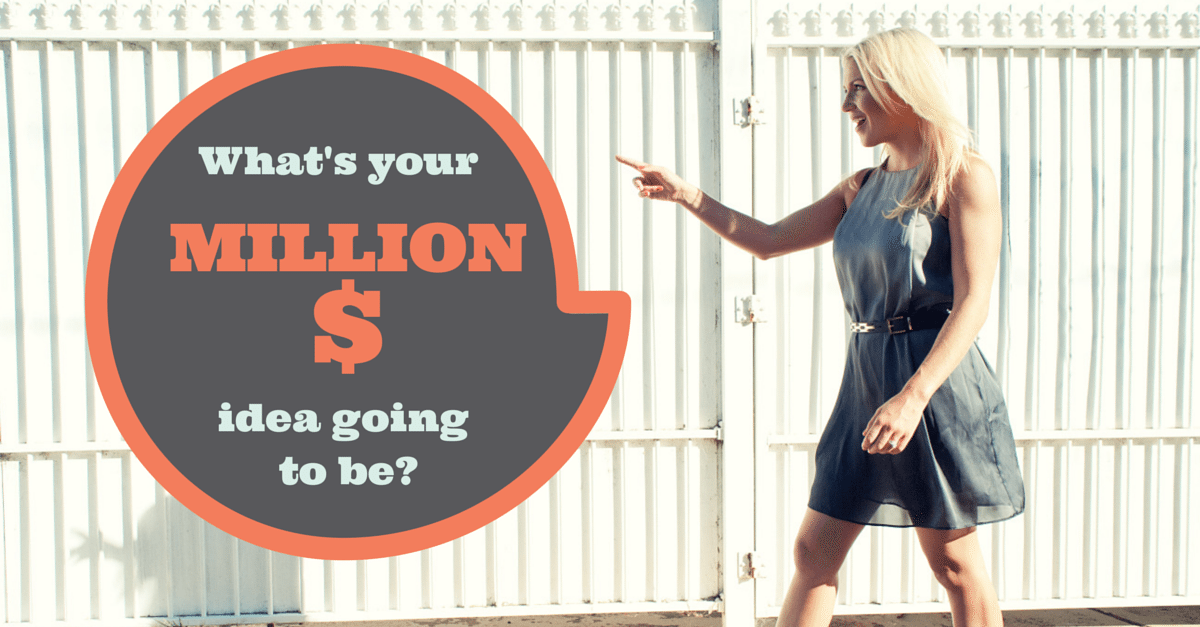 One of my favourite inspirational blog posts, back in the days before I was making money, was written by now dear friend Leonie Dawson. At the time I didn't know Leonie personally but all I knew is – this lady rocked!
Her post was about how to have a million dollar idea, and it filled me with energy and ideas. I totally GOT what she was saying (and still agree that this is what it HAS to be about), which was that your idea has to be an INSTANT YES for people. Of such high value and such high awesomeness that they can't HELP but buy!
Leonie's million dollar idea is of course her incredible Academy. A place where she brings all of her gifts together and shares them with her audience for an insanely awesome price.
At the time of reading her blog post I had just joined the Academy myself and I could see what a fantastic thing she had going on.
So I did what any naive and not quite sure of herself entrepreneur who wants to make a million dollars (and fast!) would do, and I diligently set out to create my own version of Leonie's Academy.
I modelled everything from the general concept right down to the sales page style and layout on what Leonie had done. All of the CONTENT was mine, but the idea? Not a freaking chance. But hey, that's what you do, right? You look at what's working for your mentors, your gurus, the people you look up to and you emulate them.
After all, that was clearly what was working! That was THE approach I'd been missing, that I didn't know about, nobody told me about! I was so excited to finally have learned what it would take to make my fortune.
After I launched my Rich Chick Mastermind in March of this year, and watched the immediate and runaway success of it (this was the program I mentioned in yesterday's post that created me my first over 10k a month dependable and recurring income stream), I noticed something interesting happening within the community of ladies who'd signed up for it.
Membership sites started popping up left right and centre. For women. With a special starting monthly rate then a higher recurring one. With a certain vibe and energy that felt, well –
Familiar.
And I suddenly understood how Leonie must have felt when people copied her Academy concept. Well, I don't know exactly how she felt, but what I felt was mainly frustrated.
Just because MY thing works for ME doesn't mean it's going to work for you honey!
You're going to have to go out and pave your own way. Which, I know, sucks, 'cause really it would just be NICE to have a tried and tested formula that you can just plug in and use, and hey! Sometimes we can all benefit from modelling something a mentor has done, learning a cool new approach or something we never thought of.
But modelling your entire business or product concept, right down to the type of layout and languaging you use?
Well.
Would you even WANT to actually succeed by being anything less than ALL OUT YOU?
I would say that I copied the vast majority of my mentors in some form or another in the earlier form of my business. And to this day I have clients ask me if it's okay they use certain words because it's 'my word'.
That's not my point … it's actually FINE to have your stuff sound or even look similar to your mentors stuff. I know I just totally contradicted what I've been saying but what I really mean is it's FINE SO LONG AS IT'S TOTALLY YOU BEING YOU. Similar use of wording and energy is normal – that's why you're attracted to the coaches and mentors you are, because you ARE similar!
But let me tell you something –
Your million dollar idea is not going to look ANYTHING like mine, just as mine didn't look ANYTHING like Leonie's (my Academy sucked ass!).
In fact, I'll bet that your million dollar idea not only hasn't been invented yet but that the entire BUSINESS MODEL you'd based it on doesn't even exist yet!
Why?
Because YOU'RE THE ONE WHO HAS TO INVENT IT.
When I finally found my million dollar business model, I realised that NOBODY was doing it exactly like this. It was ALL MINE! And I couldn't believe I hadn't thought of doing it that way sooner.
And here's what else is true about making a million bucks, or more –
Over 90% of what you do will fail.
This is just HOW IT IS. If you're one of the lucky freak ones where your first idea just worked, then be on your way! Nothing to learn here … if you even exist at all!
MOST stuff that you do will suck. Does suck. Does NOT work as you hoped it would, despite your BEST efforts.
Which therefore means it stands to reason that if you want to find the thing that does NOT suck you're going to have to suck it up and go through the stuff that does suck!
In other words:
[pq] There ain't no shortcut to success baby. [/pq]
In more other words:
You should ALWAYS be putting yourself out there in some way, always having a go, always sharing your message, always offering VALUE to people, because only that way will you FIND your success and your true path.
Where I see so many WANNABE entrepreneurs constantly stuck in struggle is because their idea and their hard work didn't pay off.
But instead of just getting up and on with it THAT VERY DAY, they're crying into the nearest Facebook forum with why me attitude of despair.
THAT IS NOT HOW A WARRIOR ACTS.
And it sure as hell isn't how a 7-figure entrepreneur is made.
You want to find your million dollar idea, and have your business explode?
Here's a little to-do list that I've found FAILPROOF on the 'what to do' action taking side of things:
*It's going to take hard fucking work. Every day.
*You need to put your message out there. Every day.
*You need to be selling something. Every day.
*You need to work faster than everyone else around you. Every day.
*You need to move on before the dust EVER settles on the thing you just did. Every day. (Note I don't mean burn yourself out, I mean in your allocated working time you actually WORK and KEEP working!)
*You need to be absolutely true to YOU and what would be aligned and awesome for you.
*You need to never quit, never stop, never entertain doubt or what if and you just. keep. going. until it works.
Failure can't exist if you just keep going, can it now!
So here's the thing. I want to share the process behind finding my own million dollar business model, and that's exactly what I'm going to do on tonight's free call, It's Only Money Honey.
https://thekatrinaruthshow.com/onlymoneyhoney
I'm sharing my exact story of how I went from over 100k in debt to running a 7-figure business, doing what I love.
You can register here:
But for the love of God, I ask you-
Do NOT register and take up valuable space on my numbers limited training if you are not ALREADY someone who has committed to doing WHAT it takes, for as LONG as it takes, for ever and EVER AMEN.
Do NOT register for the call if your idea of building a successful biz still centers around modelling what other successful entrepreneurs are doing.
Do NOT register for the call if you are not one of the hardest-working mother fuckers you know! Both inside AND out. You know what I mean …
This story is not a quick fix. But like I said the other day, it's real as hell and if YOU too are real as hell and willing to do – ALREADY doing – the actual work that it takes to succeed, in a way that you KNOW most people simply NEVER ARE, then be on the call.
There are no replays of this one:
>>> https://thekatrinaruthshow.com/onlymoneyhoney
Remember –
Life is Now. Press Play.
PS
Expansion.
10 Days of Live Soul Transmissions, to Help You Find and Follow the Messages Within
Day 1) Trust
Day 2) Certainty
Day 3) Self-Belief
Day 4) Empire Creation
Day 5) Your Deepest Message
Day 6) Following Soul Guidance in All Areas
Day 7) Faith vs Fear
Day 8) Accessing Flow, and Superflow
Day 9) Expanding Time
Day 10) Expanding Money
Every day will be a LIVE soul led transmission.
This will take place on Facebook video, held at a variety of times in order to account for varying time zones, and scheduled only once we have begun. Our daily soul transmissions will be guided from MY higher self and directed from and for YOURS, to help you find and FOLLOW the messages within. The messages of your spirit, your consciousness, of the who you've always been and yet have managed quite well to cover up a lot of the time.
This is about stripping away –
And getting back to the CORE.
We'll dive day by day into the above mentioned areas –
And you'll receive all content and bonuses to keep for life.
There will be daily spirit prompts which you'll receive after each training.
And plenty of time opportunity connect with me throughout, receive transmissions direct to YOUR questions, and absorb more even than what comes through on the trainings, via the energy we'll create in this collective!
It's very rare for me to know in advance exactly what is coming through day to day.
I certainly don't have the details of each day's content. But I know that these areas have been on my heart to talk about, in particular around belief, around certainty, around living from FAITH.
We know that exactly what is meant to come through for you WILL, and then some. And that if you intend and allow for it to, it will change, most likely before we even begin, due to your energetic commitment, the direction of your LIFE!
Meaning: direct it back to absolute soul alignment.
*** NEVER Seen Before Bonus! ***
As part of this, I've been guided to offer a NEVER before seen bonus … one I feel super vulnerable about sharing!
It's the exact journaling I did to allow the download of THIS offer through. How I allowed the idea to bubble up. You'll see my doubt, uncertainty, annoyance. You'll see what I discarded. How I went through the layers. And how I KNEW, this was the one.
I'll ALSO add in copies (screenshots) of my conversation with my COO Ash, where I was talking through the idea and allowing it to come to life.
I want to show you the exact Idea to Launch process!
This bonus alone is EASILY worth the cost of this program, particularly when you hear the mindset side of it, in terms of STAYING THE COURSE and refusing to back away from my self until the idea showed up!
I refuse not to create!!
AND, when you register for EXPANSION today (and how could you not?!) you'll also receive early access to the Pre-Work. This is ALSO never seen before, and brand new just for you – and it's a guided meditation on remembrance, to help you connect back to deepest self and the most certain truth of your destiny, before we even begin.
Perfect priming, for when we expand RAPIDLY into all that is coming through in this work!
Of course I could now go on and on here, about what I could or should have charged for this, and what it's actually going to be …
Or about all my accomplishments on line and off, with money, with purpose, with passion, with flow …
I think you know all this anyway. Even if you just me! Your soul feels what matters. And that's ALL that matters.
But I will say this:
You've always known it's supposed to be about ALL that is inside of you. That it's meant to COME from a place of purpose, passion, and SUPER super flow. And that if you just.freaking.trusted, and showed up FULLY from that place, you'd be living in a different reality already.
THE ONE INSIDE OF YOU.
If that's true for you right now, then LET'S GO CREATE THAT REALITY.
Right now
Press play for regular, (super fuck yes!!) upfront or payment plan
OR
Press play like a VIP, and receive the full course, plus 10 days direct photos or screenshots of my ACTUAL personal journaling, so you can see how I create and expand my life, PLUS a VIP only follow-on live Hotseat, where you'll receive a personal transmission just for you, if you'd like one! Payment plan also available.
>>> https://thekatrinaruthshow.com/expansion
We start Monday 17 December, US time!