Purpose
WINNERS WIN, AND BABY? HE MADE US TO WIN.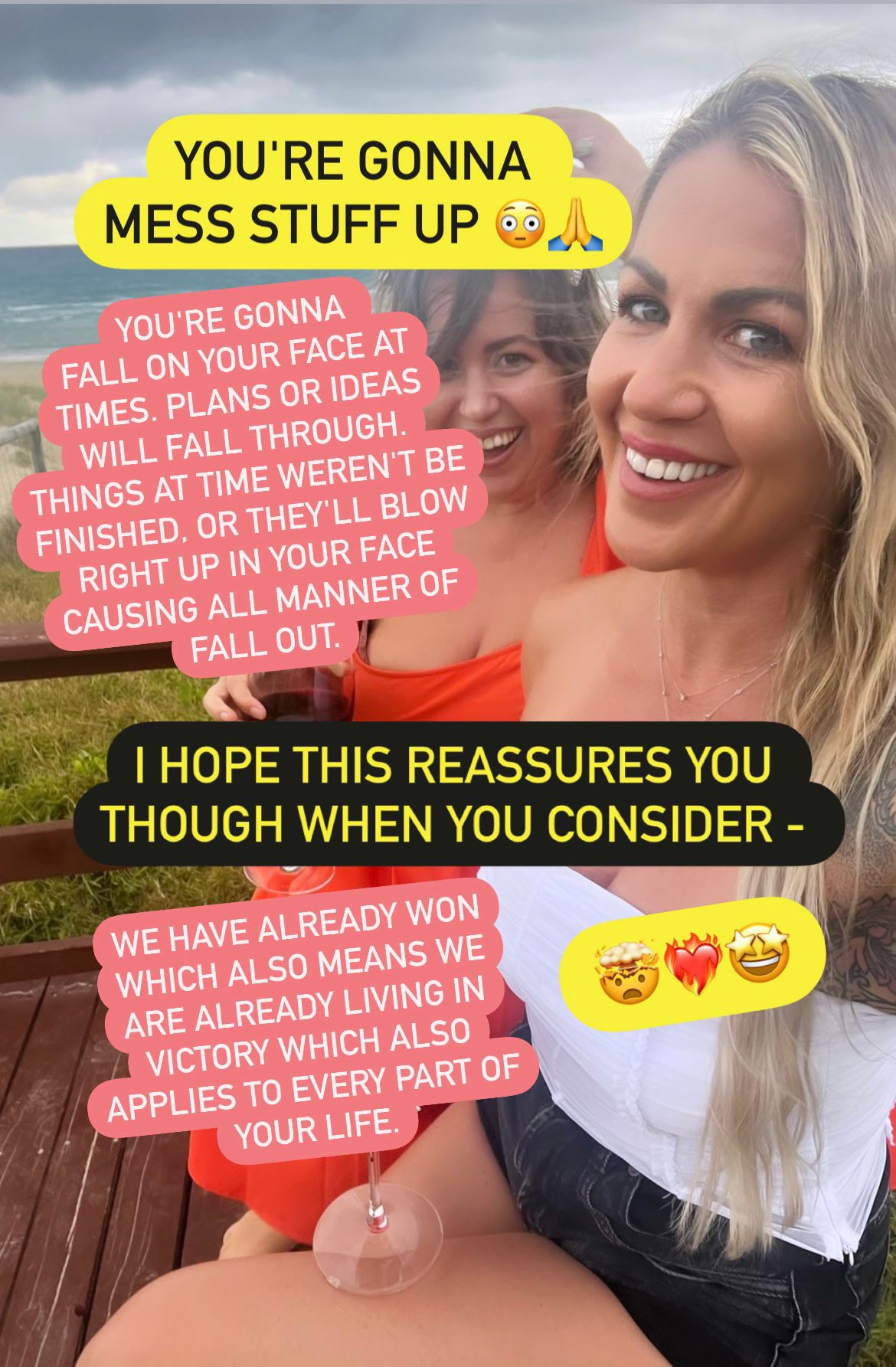 When you know who you are because you know WHOSE you are, then you will understand that the victory is already won, the ending is written, not only in a big picture ending of the WORLD sort of thing, but also –
I'm not just talking destiny, even though you know that I AM.
I'm talking the literal down on the ground, day to day truth of that fact that –
AND WE HAVE ALREADY WON.
AND THIS APPLIES TO EVERY PART OF HOW WE GET TO RELAX INTO DOING BUSINESS,
LIFE,
AND YES,
ANY LINGERING THING WE STILL WONDER 'SHOULD I BE WORRYING ABOUT'?
The answer,
in short,
is NO.
There is nothing you need to be worrying about A) because the Bible tells us not to, and so it's a sin, and B) any fool anyhow could figure out the uselessness of worry in moving things forward!
Listen –
You're gonna mess stuff up. You're gonna fall on your face at times. Plans or ideas will fall through. Things at time weren't be finished, or they'll blow right up in your face causing all MANNER of fall out.
I HOPE THIS REASSURES YOU AS WELL IT SHOULD WHEN YOU CONSIDER –
And?
WE HAVE ALREADY WON WHICH ALSO MEANS WE ARE ALREADY LIVING IN VICTORY WHICH ALSO APPLIES TO EVERY PART OF YOUR LIFE.
So what if you could start doing business, money, LOVE even, and indeed every last part of your life …
from a place of understanding that if it got messy it was meant to.
If you fell on your face there musta been something super cool on the floor.
If the thing fell through or wasn't finished it was because there was something BETTER, or because it was going to hurt you.
If it blew right up in your face causing ABSOLUTE apparent disaster … there was a whole new THING being revealed in the calm after the storm, and MEANWHILE you'd look back any minute now and PRAISE THE LORD THAT IT DID.
You gotta understand, that when you have given your life to Him and therefore you KNOW WHO YOU ARE BECAUSE YOU KNOW WHOSE YOU ARE …
God has got you.
God has got you.
God has got you.
BUT ALWAYS.
And so the bits you 'don't' know
or that don't seem to FLOW
or when you've no idea where to GO
or how you're ever gonna really GROW
are just …
bits you forgot to ask The Holy Spirit to breathe on and through and walk and talk with you on,
or bits He didn't WANT you to have an answer for just now because your focus is meant to be elsewhere.
And I just wonder,
don't you?
Where that 'elsewhere' might take us if we understand that WHEREVER WE ARE AT IN GOD IS EXACTLY WHERE WE ARE MEANT TO BE, AND SO LET'S JUST LOOK AROUND AND REALLY BE HERE. SEE here. And RECEIVE here.
If you think about it –
A lot of the time He is just teaching us to trust more. Be faith and thus Spirit LED more. And ultimately?
Live for HIM more, and always.
And so what if …
no matter what was going on …
we just knew it was about that?
And then what if …
no matter what was going on …
we just surrendered,
and said yes.
Just an idea of course,
Now remember –
Life is Now. Press Play.
Kat
PS.
GORGEOUS ONE. WARRIOR WOMAN. LEADER. REVOLUTIONARY. CALLED ONE. YES, YOU.
WARRIOR LEADER begins May 1st. Our PRE-WORK begins this week! (It is personalised to you!)
And?
The initial price has been extended / is still on!
Here is what this comes down to though. Because it's not really whether or not you join in the initial price intake.
This is 6 weeks in which you will be SHARPENED THROUGH FIRE TO BE WHO HE SENT YOU TO BE.
Yes this pertains to business.
It pertains to life.
It pertains to YOU.
This is work unlike anything I've ever led or created before.
And unlike anything you've ever encountered.
It is 100% God revealed. God led. And God ENTRUSTED.
It is,
quite simply,
WHAT IT IS TIME FOR
FOR WHO IT IS TIME FOR
AND NOW
Details
+ your place
+ visions God shared with me for you
www.thekatrinaruthshow.com/warriorleader
WARRIOR LEADER:
For the Woman With a Burning Desire for MORE, Who Is Ready to See Fire Raining From the Heavens in Every FACET of Her Life as She Says Fully Yes to Who God Designed Her to Be.
FOR YOU.