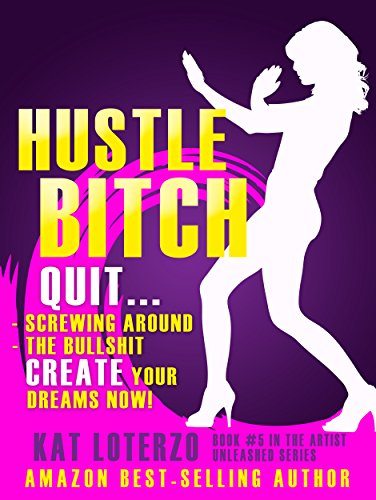 HUSTLE BITCH!: QUIT SCREWING AROUND. QUIT THE BULLSHIT. CREATE YOUR DREAMS, NOW! (ARTIST UNLEASHED BOOK 5)
You Will Write it Into Reality
Everything you create in your life and also everything you FAIL to create will come about as a direct outcome of you writing it into reality.
What do I mean by write it into reality?
I mean you write your reality. You GET to write your reality, you can choose right now to write your reality, you have absolute POWER to write your reality entirely based on what you want no matter how farfetched it is and how clueless you are about HOW.
But also this:
(And this is BIG, okay?)
Not only do you GET to write your reality but you ARE writing your reality.
The reality you HAVE right now is the one you wrote.
Chose.
ORDERED, by fucking design, so best you not be bitching about it!
What future have you carved out in the past few hours, day, week?
What future are you LIVING right now because of what you wrote previously, over and over again until it came true through, not only (and perhaps not at all) the written word, but your thoughts, your spoken word, fuck even your breath?
You WRITE your reality into existence.
Your WORDS have power.
Even the ones you don't say aloud, and perhaps especially.
Write that shit down.
Again and again.
Until you believe it.
Until you are living it.
Until you ARE it, and it is you.
It's irrelevant that right now –
Your dreams feel impossible, out of reach, even ludicrous.
It's irrelevant that right now –
You have no idea where to start or even if you do DARE to ask.
It's irrelevant ALWAYS –
That what you really want is too much, over the top, selfish, or just plain INSANE.
The only question you need to ask yourself, is do you want the dreams you're trying to dream?
And if the answer is hell to the YES, well then SERIOUSLY honey:
When are you going to actually start dreaming 'em?
When are you going to take time from running flat out on the hamster wheel to just clearly write the fuck down what you want?
When are you going to get it through your head that your THOUGHTS are what dictate your ACTIONS which become your HABITS which become your RESULTS which become who you ARE which becomes your DESTINY?
So when you're oh so busy each day, keeping up and getting shit done and trying to stay afloat –
And you tell yourself you don't have TIME right now to think about the bigger picture or even the shorter one, to state it and therefore start to CREATE it –
And you're wondering why you're not THERE yet, why it's not really WORKING yet, why things aren't coming together faster –
Well don't you think it might – MIGHT – just be because 99.99% of your energy is going into keeping you where you are now, and then bitching about what you don't like about it?
Small fucking wonder you don't have the future you say you want, because you're not actually saying you want it!
So here is something right NOW to write down, and write into reality:
Your thoughts BECOME your reality.
Your THOUGHTS become your destiny.
What you're giving your time and your energy to right now is what you will CREATE.
So if you want a new reality?
Write that shit down.
Write it down.
Do it now.
STATE what you wish to create.
Claim OWNERSHIP over what is to be yours.
Don't QUESTION the how or the whether you're worthy or anything else.
Just write it down.
Speak it out.
Breathe it into your SOUL.
And for the love of God stop bitching and moaning about not being there yet. You're exactly where you want to be, and you've got what you asked for, nothing more and nothing less.
Want more?
Start asking for more. Start doing some work.
In Hustle Bitch I cover:-
– You Will Write It Into Reality
– STOP Being Such a Whiny Little Bitch
– This Might Be Why You Don't Have What You Want.
– You Have What it Takes
– Will You Surrender to All of It?
– What Are You Waiting For, Really?
– This Will Destroy You
– THINK.ACT.RULE
– Keep Fucking Going
– Phoenix Rising
PS
I'm calling in my next intake of driven badass LEADER women who want to work with me 1:1 to FOLLOW SOUL and achieve ALIGNED AF fame, income growth, more.
Yeahhhhhh … this is about unapologetically claiming your place as one who is MEANT to be seen and heard by everyone!!
Next Level Empire baby!
Multi 7-Figure Empire Expansion For Unapologetically Badass & Driven Women Who Are Ready to Be Seen By the WHOLE Damn World
6 weeks.
1:1
You and me
This is for the women who already have a message, an audience, and are making money online and who are now ready to put some damn WHEELS on the thing.
We will be going deeper into message clarity
We WILL be nailing down what you're selling, and how you're selling it, for maximum conversion and flow
We WILL be getting you fully connected to the badass leader within who KNOWS she is meant to run the damn thing
But these things are just the warm-up, because let's face it –
You already message
You already show up
You already sell
You're already ROCKING what you're doing right now
So what you're here for, and what I'm here for with you?
Is to blow the damn thing up.
MAXIMUM reach.
RAPID growth of audience
MASS visibility
MEDIA TAKEOVER
NEXT level leadership status, and being the one who is KNOWN as the Queen
And sales EXPLOSION
I'm taking what I'm doing in my business to CONTINUALLY claim my place at the top, and to take my message to the masses whilst also RAPIDLY growing following and income,
And showing it all to you
Exactly how we do it
What precisely is in place
What we had to have in place for it to work
What we do day to day to elevate fame, income, purpose, ALL of it
And then I'm going to work with you personally to roll it out
Next Level Empire baby:
For the women who were born for more,
And who are done with circling repeatedly around the same damn pond and kidding themselves they're gonna find it there.
Ready, and know it's time? It just might be 😉
PM me now for the full overview. x