News
Healthy Portion Sizes Part 2: The Sneaky Extras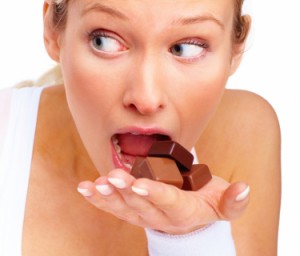 If you haven't read my earlier post, Healthy Portion Sizes: A Failproof Guide, then be sure to check it out. I've given you the full rundown on how much you need to eat at each meal when it comes to protein, fats and carbohydrates. But as I was wrapping up the article I realized something crucial –
That's not enough. Is it?
After all – it's more often the sneaky in-between meal snacks that cause your belly to slowly creep out well beyond its designated boundaries. In my experience someone can eat right at all their meals and still lose the battle of the bulge if they don't pay close attention to the rest of the day.
I've found these sneaky extras fit into 3 main categories. And if you're serious about eating the right amount for your body and your weight then you need to make sure you have this stuff under control.
1. Juices, soft drinks or cordials. We all know soft drinks and sugary cordials are bad for us, but did you know the same rule applies for diet soft-drinks, diet cordials, and ALL juices? Juices are one of the biggest baddies when it comes to over-eating. You tell me – is it natural to eat 9 oranges at once? 'Cause that's how many it takes to squeeze a tall glass of OJ. Talk about a sugar overload! As for diet beverages, it's now old news that artificial sweeteners are so effective they actually trick your body into releasing insulin and storing fat, just the same as if you drank the sugary stuff. If you're trying to lose weight even one glass of these types of drinks per day is too much.
2. Chocolates and sweets. Simple rule – they're not good for you. They're nothing but a high-sugar, low-nutrition highway to blubber. And to add insult to injury, indulging in these sort of snacks actually triggers more cravings later in the day, usually leading to a rollercoaster of bad eating. The only exception – organic, 70% plus dark chocolate. Yum! Check out these few other guilt-free sweet treats that are actually good for you.
3. Sneakily stolen snacks. These are the sneakiest of all foods that make you fat. They're the little stolen moments of pleasure that you conveniently forget to count. That somehow don't make it into your food diary even if you tell yourself you're being completely honest. It's the 5 mints throughout the afternoon, the few bites of your kids' dinner. The sugar or two in your coffee. The shared bite of a colleagues' brownie. The 'mini' chocolate bar from the office supply. The candy you bought for charity (yes, even good deed candy purchases can make you fat). The extra spoon of creamy mashed potatoes. The cheat meal that extends into a cheat evening day weekend. I mean, c'mon –
Take just a moment and think about how you'd feel if you were forced to face a table-load of the past years' sneakily stolen snacks. Would the table still be standing?!
I know you hear me.
The good news is that you have the power to turn things around anytime you choose. Today, in fact right now, can be the moment you decide that it's time to get real. To truly give yourself a shot and see just how far you can take this weight loss or health gig if you do things properly. It's not about never indulging, don't get me wrong. But I will say this – if it's a barely conscious indulgence, then what's the point? You eat it so fast you barely register it with most of these things.
Why not set yourself a goal of reaching the end of today with pride in the way you've treated your body? And then do it again tomorrow. And the next day. Trust me, it does get easier. And there's no rule that says real nutrition doesn't taste great. Plus – even if you're being super strict you should still let your hair down for a cheat meal (yes, meal) once a week.
And you should always remember –
Life is Now. Press Play.
Kat
Don't forget to leave a comment on this post in the 'post a comment' section just below. If you're reading from RSS or email you'll have to enter the blog to do this. You can do that by clicking on the title of this piece. 'Post a comment' is at the article end, right under the 'share this' and 'related posts' options.
If you haven't yet subscribed to this feed, what are you waiting for? Do it now. You can choose either email or RSS by clicking here. If you enjoyed this article please forward to your friends. Thank-you!
PS
Expansion.
10 Days of Live Soul Transmissions, to Help You Find and Follow the Messages Within
Day 1) Trust
Day 2) Certainty
Day 3) Self-Belief
Day 4) Empire Creation
Day 5) Your Deepest Message
Day 6) Following Soul Guidance in All Areas
Day 7) Faith vs Fear
Day 8) Accessing Flow, and Superflow
Day 9) Expanding Time
Day 10) Expanding Money
Every day will be a LIVE soul led transmission.
This will take place on Facebook video, held at a variety of times in order to account for varying time zones, and scheduled only once we have begun. Our daily soul transmissions will be guided from MY higher self and directed from and for YOURS, to help you find and FOLLOW the messages within. The messages of your spirit, your consciousness, of the who you've always been and yet have managed quite well to cover up a lot of the time.
This is about stripping away –
And getting back to the CORE.
We'll dive day by day into the above mentioned areas –
And you'll receive all content and bonuses to keep for life.
There will be daily spirit prompts which you'll receive after each training.
And plenty of time opportunity connect with me throughout, receive transmissions direct to YOUR questions, and absorb more even than what comes through on the trainings, via the energy we'll create in this collective!
It's very rare for me to know in advance exactly what is coming through day to day.
I certainly don't have the details of each day's content. But I know that these areas have been on my heart to talk about, in particular around belief, around certainty, around living from FAITH.
We know that exactly what is meant to come through for you WILL, and then some. And that if you intend and allow for it to, it will change, most likely before we even begin, due to your energetic commitment, the direction of your LIFE!
Meaning: direct it back to absolute soul alignment.
*** NEVER Seen Before Bonus! ***
As part of this, I've been guided to offer a NEVER before seen bonus … one I feel super vulnerable about sharing!
It's the exact journaling I did to allow the download of THIS offer through. How I allowed the idea to bubble up. You'll see my doubt, uncertainty, annoyance. You'll see what I discarded. How I went through the layers. And how I KNEW, this was the one.
I'll ALSO add in copies (screenshots) of my conversation with my COO Ash, where I was talking through the idea and allowing it to come to life.
I want to show you the exact Idea to Launch process!
This bonus alone is EASILY worth the cost of this program, particularly when you hear the mindset side of it, in terms of STAYING THE COURSE and refusing to back away from my self until the idea showed up!
I refuse not to create!!
AND, when you register for EXPANSION today (and how could you not?!) you'll also receive early access to the Pre-Work. This is ALSO never seen before, and brand new just for you – and it's a guided meditation on remembrance, to help you connect back to deepest self and the most certain truth of your destiny, before we even begin.
Perfect priming, for when we expand RAPIDLY into all that is coming through in this work!
Of course I could now go on and on here, about what I could or should have charged for this, and what it's actually going to be …
Or about all my accomplishments on line and off, with money, with purpose, with passion, with flow …
I think you know all this anyway. Even if you just me! Your soul feels what matters. And that's ALL that matters.
But I will say this:
You've always known it's supposed to be about ALL that is inside of you. That it's meant to COME from a place of purpose, passion, and SUPER super flow. And that if you just.freaking.trusted, and showed up FULLY from that place, you'd be living in a different reality already.
THE ONE INSIDE OF YOU.
If that's true for you right now, then LET'S GO CREATE THAT REALITY.
Right now
Press play for regular, (super fuck yes!!) upfront or payment plan
OR
Press play like a VIP, and receive the full course, plus 10 days direct photos or screenshots of my ACTUAL personal journaling, so you can see how I create and expand my life, PLUS a VIP only follow-on live Hotseat, where you'll receive a personal transmission just for you, if you'd like one! Payment plan also available.
>>> https://thekatrinaruthshow.com/expansion
We start Monday 17 December, US time!