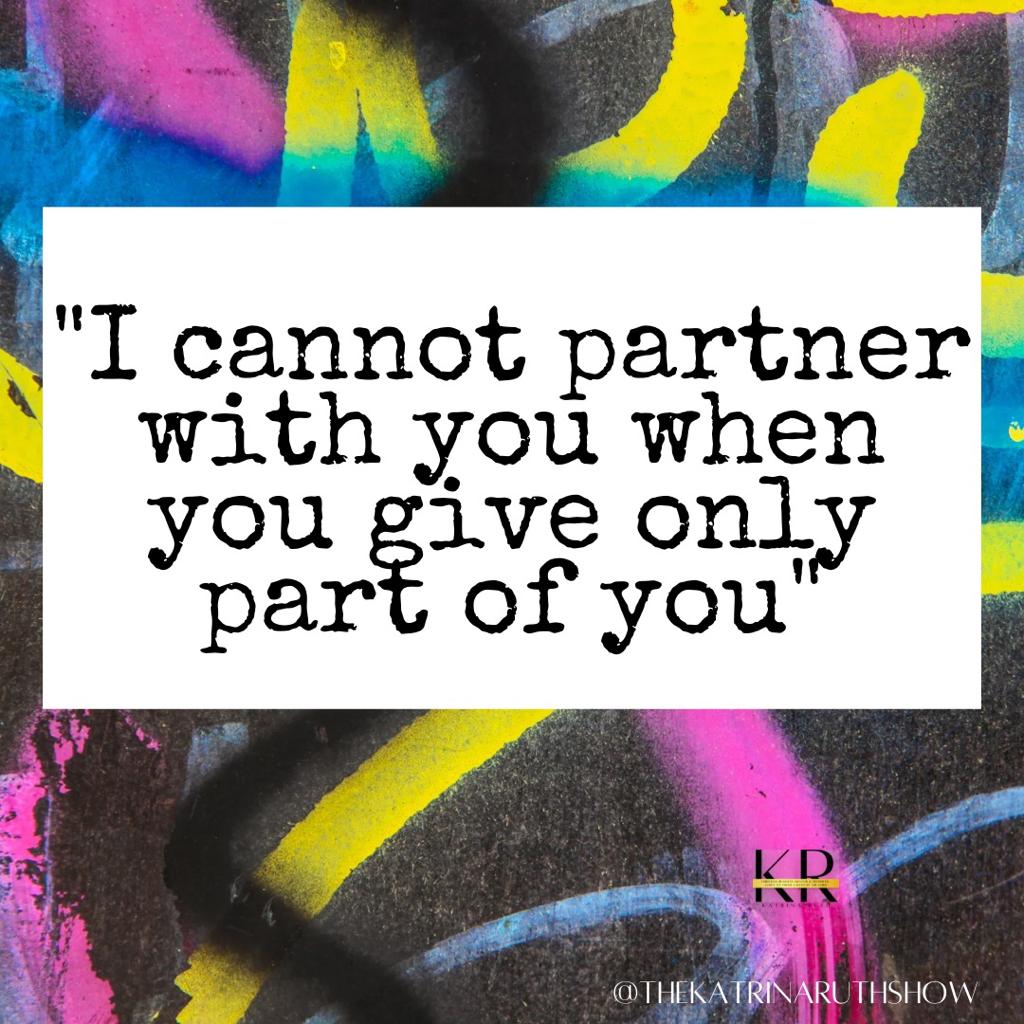 Purpose
"I CANNOT PARTNER WITH YOU WHEN YOU GIVE ONLY PART OF YOU"
I heard the Lord say "I cannot partner with you when you give only part of you".
"I cannot partner with PART of you".
"I cannot partner on nor deliver to a version of you whose expectation IN me is not absolute".
"You have been pursuing things outside of me. Not because you believe they exist outside of me. But because you have not yet been trained to ONLY look, find, receive, and be, IN me."
"What you should be pursuing is ME".
"The location of the things you seek is IN me".
"The only limitation here is not whether or not the things you yearn for and know are PROMISED you in me truly exist but instead it is your LACK OF CONSISTENCY IN GOING IN TO ME".
"You do not yet expect that it is a NATURAL AND ABSOLUTE OUTCOME OF BEING IN ME that the things I have promised you will occur".
"When you understand this you will stop looking every place other than eyes fully fixed on me in order to find what you have and ARE in me".
"Decide that today is the day you look ONLY to me, and daily! That there is not a single thing outside of me worthy of your attention. That whilst your looking is not inherently bad or wrong it is a distraction and derailment and a delay.
It's time to RUN FASTER AND MAKE HASTE. But not towards a thing. Towards me".
This was just part of what He said, because in actuality it was a several hour long conversation, dance into journaling and prophetic writing flow, and (another!) download of an entire new book.
This will be Book 1 in the LOVE Files.
But here is the message for right now:
He cannot partner with part of you.
Your eyes were designed to be fixed FIRMLY and FULLY on your Lord.
Knowing that He WILL pluck your feet out of any net or snare they encounter (Psalm 25).
Knowing that this is not a by product of YOU doing a thing.
And it is certainly not a result of you looking down at your feet and freaking out when they do get stuck some place.
God does not tell us to keep our eyes and mind fixed fast on Him, not looking to the left or the right, so long as all circumstance down and around us is exactly as we wish or hope it should be, and we can see physical evidence that what He said and what we have been shown in Him is occurring.
He said – YOUR PROOF IS WHAT I SAID.
YOUR FAITH IS YOUR EVIDENCE.
AND WITHOUT IT,
IT IS IMPOSSIBLE TO PLEASE ME.
(Hebrews 11:1,3,6)
He said – KEEP YOUR EYES FIXED ON ME ALWAYS. WHEN YOU LOOK DOWN YOU SEE THE WAVES ARE BOISTEROUS, AND YOU START TO SINK.
(Matthew 14:30)
Sometimes I think we 'get' the bit about turn to God when things are rocky or uncertain, yet we fail to truly take note of the bit about THE THINGS WE SEEK BEING IN HIM.
Instead we pray or dream or wonder about the time when we will finally have the godly marriage … the beautifully flowing and abundant business … the work of our creative genius unleashed … our home a sanctuary and haven filled with holy hands lifted by all … revival underway in our church or town …
and we then go looking for what we need to DO or SEE or FIND or KNOW in order to bring this to pass.
BUT GOD SAID, IS SAYING RIGHT NOW –
"WHO TOLD YOU TO PURSUE A THING?
AND WHO TOLD YOU TO BRING A THING TO PASS?
DON'T YOU KNOW THAT I AM THE ONE WHO WILL BRING IT TO PASS?
IT IS MY WORD YOU HAVE BEEN TOLD TO DECREE.
IT IS MY WORD WHICH WILL NOT RETURN VOID ONCE IT FALLS FROM MY LIPS.
THE AUTHORITY YOU HAVE IS IN NOT OUTSIDE OF ME.
SO WHY DO YOU SEEK IT,
OR SEEK A THING,
BEFORE OR SEPARATE TO HOW YOU SEEK ME?
HOW DO YOU EXPECT ME TO PARTNER WITH ONLY PART OF YOU?"
I don't know what part of this is FOR you.
I do not know what area of your life it SPEAKS to.
I do not know which one thing you needed to hear today.
But I do know this:
We FIND our life,
when we SURRENDER our life.
This is not a part time or part piece thing.
And for many of the driven ones like us …
perhaps the greatest thing you've not yet realised to give
is your idea of forging ahead with some part of it yourself
your idea of in some way proving yourself
or doing enough
for God
Today I urge you to make a choice which has transformed my life, in the short time since I first made it:
BREAK UP WITH TRYING TO DO ENOUGH FOR GOD.
REPENT.
RENOUNCE.
AND REPLACE –
with the certain truth that you can only go to God raw,
and empty-handed.
Because the alternative is you are GOING to Him,
and giving only a piece.
"HOW DO YOU EXPECT ME TO PARTNER WITH ONLY PART OF YOU?"
– "God.
I do not".
Now don't forget –
Life is Now. Press Play.
Kat
PS.
It's the final day and a bit to join me in my new live and God-ordained 30 day container, The Prophetic Bootcamp.
"YOU SHALL DECREE A THING", is what He said. "AND IT SHALL BE STABLISHED UNTO THEE". (Job 22:28)
Would you like to deeply know what this means?
What God says about you?
And the authority with which He would have YOU say things over you, and beyond?
Simply –
DO NOT MISS THIS.
You're supposed to be in.
PPS.
And now.
A new unfolding.
A new thing.
A new dream.
And it's time to dream it.
Are you ready?
Do you feel it?
IS it time, for you?
YES.
DESIGNED TO BE A DREAMER,
is here.
A one time live workshop event with Katrina Ruth.