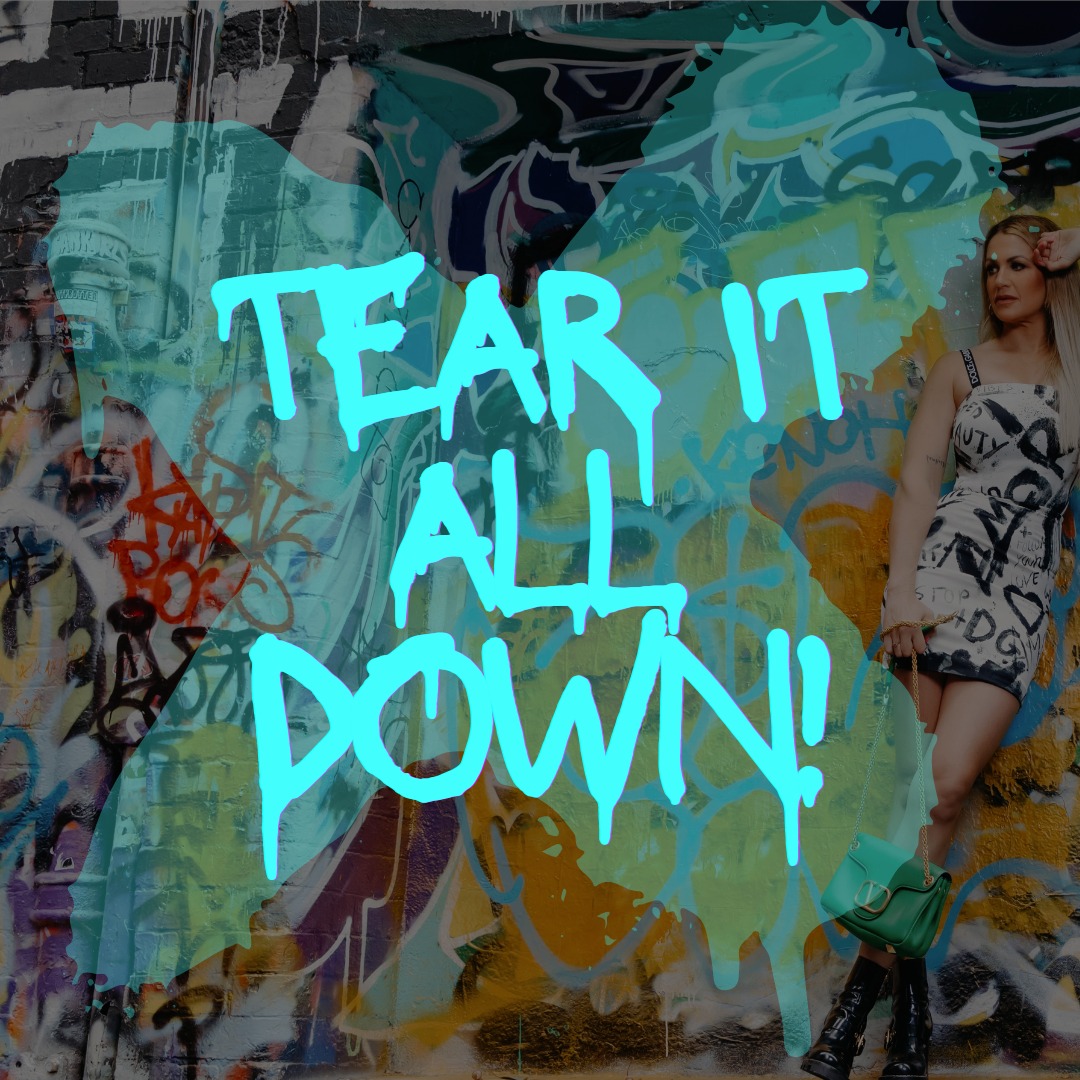 And maybe the reason you're not making the money you know you should be making at this point, with the flow and ease and continuity you know it could be at this point, and you tear your hair out almost daily trying to figure out WHAT is the freaking point, way more than you'd care to admit, is as simple as this:
You've set yourself up to be a walking talking sideshow, a freak show the kind which doesn't actually allow you to GET your freak on, a regular puppeteer's performance, and now?
You're stuck with it.
Or at least, it feels that way.
It's confusing, if you're honest about it. How did this HAPPEN? The whole entire point was that you are one of the DIFFERENT ones! Even within the room of those who consider themselves the different ones you're the different one! You OOZE personality, and just the right kinda weirdness, the cool arty what-even-is-that and why can't I look away kind. You were MADE to create. You've been innovating and inventing entire freakin' worlds since before there was even a game to consider being part of!
You have ALWAYS been able to zig when everybody else zags and come up shining, in fact – it was never even a tactic!
Being DIFFERENT,
having the EDGE,
being the one who lives the life less ordinary, creating something EXTRAORDINARY,
is just who you are, how you were made, you ROLLED OUT OF THE WOMB LIKE THAT.
So at what point,
pray tell –
did it turn into this same-samey little 'let me keep up with the preppy cool girls online situation?'
At what point,
pray tell –
did it once again become some kind of high school nightmare in which you perpetually tried to make sure you were BEING right, all the while wanting to claw your own eyeballs out from the inside at the mere IDEA of being, well –
like that.
Look.
It's okay to admit that on some level you DO wanna be like 'them'. We all have that part of us.
YOU'RE MEANT TO KILL THAT B*&TCH DEAD REMEMBER. Send her once and for all back to whence she came. With love! Because it was never actually about trying to BE her, was it?
It was about noting that sure, there's this wanna fit in part of you, this instinct we all have to be part of the community, to go unnoticed whilst simultaneously somehow winning the womens collective bake sale every season … or whatever the online equivalent is … and then CONTINUING ON YOUR MERRY WAY AS THE MERRY-MAKER, WHO WELL –
only you are.
Because here is the truth about a woman like you. A woman like me. About one of US, the ACTUALLY different ones.
>>> You flat out will not make money, or make it consistently, or make it to anywhere near the point it should be a-rollin' in, and nor will you REMOTELY cause the impact you came here to pour into others lives, if you do not 'fess up to one simple fact.
And that fact is this:
YOU HATE HATE HATE HATE HATE HATE HATE TO INFINITY X AND BEYOND THE IDEA OF TRYING TO BE PART OF AN INDUSTRY. A CROWD. A WAY OF DOING THINGS ON THE INTERNETS. OR KEEPING UP WITH WHATEVER THE SO-CALLED VIBE IS WHEN IT COMES TO ONLINE PERFORMING PROPERLY LIKE ALL THE OTHER GOOD PUPPETS IN THIS SEASON'S SHOW, sorry did I say that out loud? Online business.
As a result of this:
– You repeatedly do not show up consistently

– You resist following through on even the things YOU decided to do, and which came from a true flow place creatively

– You do bizarre stuff like just … not get back to people who want to pay you

– You think continually about what you should or could be doing, and how simple it would be to just get on with it but when it comes to the crunch it just feels too hard … you don't wanna … you procrastinate perpetually until you eventually tell yourself tomorrow will be different, no really

– You have sparks of pure genius, but most of the time you feel energetically exhausted and meanwhile – the sparks fade out before you manage to harness them because when you try to think about how it just results in a return of all the UGH feelings around doing biz-niz the way it apparently needs to be done

– If you were really honest about it, you'd have to admit that one of the underlying feelings you walk around with most is actually – defeatedness.
But oh sure, whack a happy bright filter on and say some mediocrely true yet basically pig-swill-BS stuff which in SOME way reflects your message and your genius, just make sure you put it in the framework err'body is currently lapping up on the socials these days, and add a few extra exclamation marks for good measure.
Then pretend your shoulders aren't slumping back down into WHY THE ACTUAL CAN I NOT SOMEHOW GET IT TOGETHER WHEN I KNOW I WAS BORN FOR THIS sadness the very next second.
Hey, I GET IT.
This has only been me cyclically the ENTIRE FREAKING TIME. All the while I was building this thang which somehow defies every possible rule of online business yet produces tens of millions of buckeroos I was back and forth in between battling the EXACT stuff I just articulated.
I STILL DO. The difference now, and I guess for a long while, is – I recognize it. I understand it. I have not only shifted my own butt out of this state too many times to remember but have personally mentored as well as group coaching mentored literally THOUSANDS of kickass leaders and creators both on and offline who are ALSO this kind of person, to switch straight back into their fire. All of which is to say:
I know how to kill the b*&tch dead, and I do so promptly.
Because I dunno about you, but personally I kind of hate having my money and my motivation start shooting through the depths of the earth as though it's on the fast-track to hell when I flat out know it should not BE that way.
See one of the things I've always been really good at, and which has been a huge part of my success, one that kind of comes naturally to me but which I have also built on, is BACKING MYSELF UNAPOLOGETICALLY IN WHO AND WHAT I CAME HERE TO BE.
And then?
Showing up accordingly.
What this looks like is simple:
Make yourself a big ole list of all the shiz you are doing which you actually LOATHE. Be BRUTALLY honest. If you're as great a natural at selling as I bet you are if you ARE this person then you will convince yourself in the blink of an eye back into or further forward with all the stuff you do NOT need, and that makes reading all of this and gettin' the smackdown you need right now pointless.
Next, blank slate the whole thing in your mind. Journal or walk it out til you can finally see straight again and you are LIT UP GIDDY LIKE A FANTASY PRINCESS EXCITED AGAIN.
WHY? What was it that stoked that fire? What was the idea or way of seeing things which 'caught'? What was the revelation you had about the kinds of stuff you REALLY wanna say, or stand for? What did you realise you TRULY DO NOT GIVE A SHIZ ABOUT? And what did you realise would be freaking hilarious, and also creatively INTERESTING, WILD, CRAZY, and FREE, at least to YOU … which you KNOW means also to your actual soulmate peeps … for you to start flinging on out there?
I'll finish with this, because this is a blog / email / book chapter / whatever I use it for, not a free course in text format:
You already know how to create, and run the thing like you made it.
Just stop doing stuff YOU didn't make or create and don't care about. And get back to, or begin for the first time, showing up as though you are actually the one in charge here, and the one with the genius that eyes can't be torn off from.
IT'S ONLY WHAT YOU WERE BORN TO DO.
Now don't forget –
Life is Now. Press Play.
Kat
PS
BECOME THE LEADER NOW STARTS MONDAY MONDAY MONDAY!
It's ONLY what you were born to do.
And?
There is a way where you do not need to compromise a single DOT point of how you show up, and every last bit of your messaging, marketing, selling, story-makin', creating, coaching, delivering, empire-building is a mad genius YES flow which lights YOU on fire first and then carries the ONLY perfect peeps for you in its wake.
It is TRULY not meant to be this hard …
And?
You already know this.
It's time to switch to the wild side baby. The WE DON'T DO IT LIKE THEM SIDE. The we were made to RUN this thing side, and I don't mean win the online prom queen trophy I mean we run the thing we INVENTED as though there IS no other world and we change it as and when we feel and everybody is WELCOME.
This,
is what I was made for.
THIS,
is what I have been teaching women like you for years now, closer to decades than decade.
THIS,
is what it's time to fall over the edge into.
AND NEVER COME BACK OUT.
www.thekatrinaruthshow.com/becometheleadernow
YOU'RE SUPPOSED TO BE IN.