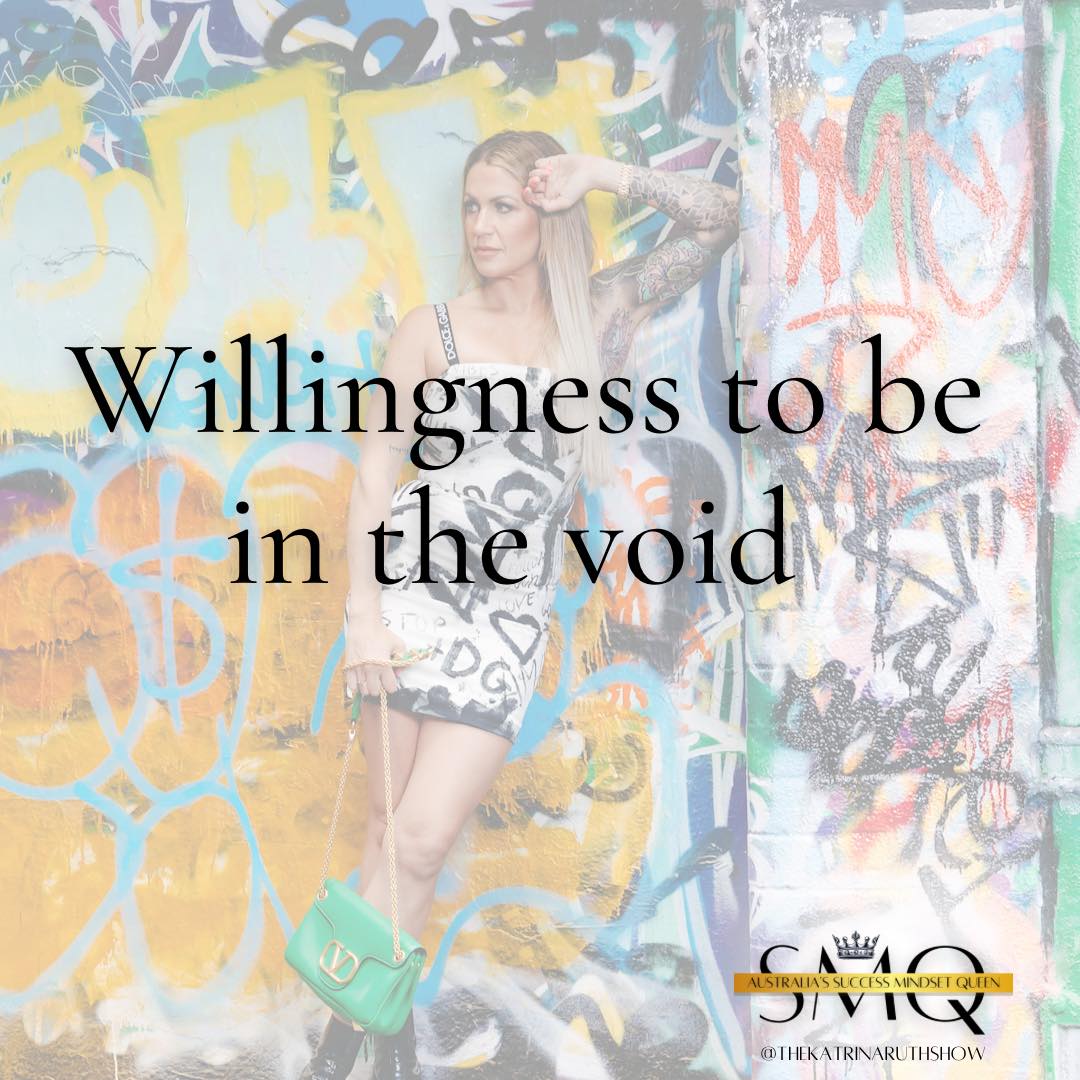 One of the biggest but in the end one of the most rewarding sacrifices you can make, one which will ultimately result in your life moving continually further into purpose, destiny fulfilled, adventure, joy, fun, and FLOW, is the willingness to step into the void in a particular area where you are so called.
How to know you're being called into the void? Pretty much because you're getting the nudge to let go of something. To turn away. Drop that thing like the WILL burn you potato it is. And COMPLETELY SEVER TIES.
Let me cut straight to the chase:
A lot of the time when people know they need to quit something, someone, some way of being, they 'kinda sorta' do it. And then tell themselves they did the hard thing. And then a minute or three later or wailing and whining about why they didn't get their due rewards or payoff.
Firstly, let's be clear –
you don't walk away, turn away, renounce, be DONE, and go into the void IN ORDER TO GET A PAYOFF.
You do it because it's time.
You do it because you must.
You do it because you no longer can NOT.
You are AWARE that there are very likely to be wonderful and LIFE-changing rewards and goodies on the other side of this choice … and you're excited about that, eager even, and maybe even avidly CLAIMING it,
but you don't do the obedience and surrender bit 'so that'. You do it for its own sake. And because you have finally come to realise that the reward IS the release, with WHATEVER follows it being just GRAVY baby. Gravy which you know is gonna be good, GOD, and ALIGNED, no matter what it looks like because you did YOUR bit.
So that's that.
And then secondly –
the kinda sorta thing? Yeah, NO, that is not a thing.
This looks like:
– walking away from something or someone but then letting it / them still dominate your thoughts – "oh, but I'm not ACTIONING those thoughts!" – lololol where do you think your future is being created from?
– maintaining the habit or connection in sneaky ways – "oh, but I stopped doing the ACTUAL thing!" – ignoring that you just replaced it with something you are designating as 'not too bad' or 'not the same', even though you KNOW.
– justifying reasons why you sometimes got sucked back in, whether to the actuality of the thing or maybe to talking about it or just putting a focus on it – "oh, but today was different so blah blah blah justification".
Listen –
when you are done with something you are DONE.
Finito. THAT SHIZ GOT BLOWED UP AND IT LITERALLY CAN'T COME BACK BECAUSE YOU ACTUALLY BROKE IT OFF. You MEANT it. It was a NON-negotiable, a complete handing over, and UNCONDITIONAL by nature.
Don't pretend you don't know how to do this, you've DONE IT BEFORE WHEN YOU HAD DEFINITE REASONS TO.
So … find your definite reasons. And then BACK them. And then take a deep breath baby because YES it's scary. Painful even, depending. And when you truly step into that void where you've fully turned away and it's not already being filled up with the next thing so now you feel lost, searching, almost frantically NEEDING to default back –
ask yourself what it is you actually need to be filled up with right now?
The answer:
Always God. Followed by you being who you actually came here to be.
NOW GO MAKE THAT PICTURE.
And plant it firmly in the ACTUAL void you allowed.
I'll bet it's gonna start filling with some REALLY good stuff soon. But not til you actually make that space gorgeous. Sit in the space. And be willing to stay in the space until such time as you are ACTUALLY shown,
what else.
EXHALE OUT THE IDEA YOU CAN'T.
This is your life.
YOU CAN'T NOT.
DON'T FORGET –
Life is Now. Press Play.
Kat
PS.
Is it time to go all in with me, 1:1? Breakthrough Private Mentoring is open now.
This is about BLOWING UP your business + money results …
by BREAKING off what is no longer needed or never was –
REVEALING the heart and soul and unapologetic raw wild YOU-ness of it all …
and combining the inner game | energetics | GOD-led supernatural + spiritual as well as the hands on do-the-WERK bits,
of being the leader who CAME here to make and impact millions –
start a revolution –
and knows that it is now TIME.
This is for you if you are already 'successful',
yet you feel in many ways as though you are barely warmed up
and you KNOW there is something so much deeper
Parts you've been ignoring
Parts which need breaking off
and an IMMEDIATE expansion of money | business | soulmate community but most of all YOU flow,
which gets to occur.
Message me,
IF IT'S TIME.