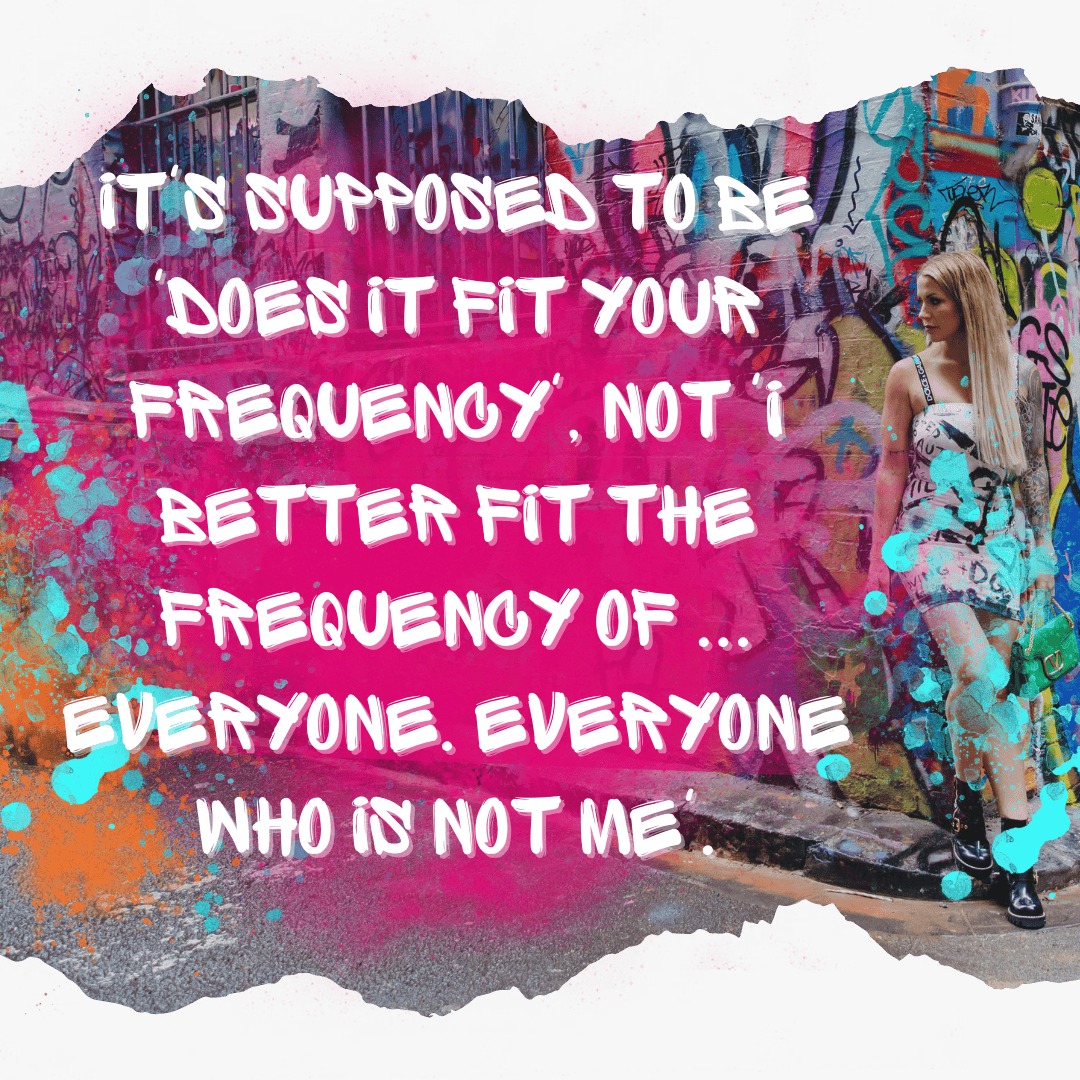 Do you realise that this entire industry, the whole online entrepreneur creator one, is just made up?
Year after year, whatever the 'now' trends or marketing rules are become known and then like good little lemmings most entrepreneurs go marching straight after 'em.
But what if you already came pre packaged with what YOU need to see what YOU are here for BUILD IN YOUR WAKE.
And what if the whole thing was MEANT to be about it BUILDING IN YOUR WAKE?
NOT about you carefully collecting exactly the right lego blocks then building the thing dutifully and rightly, with exactly the correct trending audio over the top of it, and a step-by-step rule-abiding funnel constructed in which to deliver your GENIUS to the peoples.
I'm sorry, but isn't that just LEMME GET IN THAT OLE BOX OVER THERE AND WHY DON'T I HELP YOU OUT BY LAYING DOWN AND CLOSING THE LID ON IT?!
You have to realise that it should be that YOU lead the fray. Your one! And you take with you whatever is currently 'the thing' if it is a vibe and a match for YOU.
It's supposed to be 'DOES IT FIT YOUR FREQUENCY', not 'I BETTER FIT THE FREQUENCY OF … everyone. Everyone who is NOT me'.
It's time to OPT out.
It's time to LOOK THROUGH THE LENS OF TRUSTING THAT THE GIFTS YOU'VE BEEN GIVEN ARE MEANT TO COME OUT THE WAY THEY ACTUALLY ARE COMPELLING YOU TO LET THEM OUT.
And to DECIDE that this thing is gonna work because that is what you CAME here for and that is just how it is. Thank you, The End!
All of which is to say …
It's supposed to be 'does it fit YOUR frequency', not 'I better fit the frequency of everyone. Everyone who is NOT me'.
Oh, and?
I made you a thing.
It is a 10 week MENTORSHIP thing.
It is like NO thing you have ever done before.
It is going to hold you to the fire but GOOD.
And baby?
YOU IS GONNA ONCE AGAIN BECOME THE FREAKING FIRE.
The way it is MEANT to be.
Listen.
The answer is not 'go hire someone to do the bits that you should have working by now'.
And the answer is NEVER 'lemme get better at being a mediocre version of everybody else'.
The answer is ONLY:
SHOW UP.
SHAPE UP.
AND SHIFT UP.
Listen.
This is not about ego, it's not about YOUR way over God, over truth, over ALIGNMENT.
It's about the fact that YOU ALREADY KNOW WHAT YOU'RE MEANT TO BE RUNNING WITH. And while there might be some cleaning up of specifics to get to, all in all?
The cure for the entire messy malady is to get over yourself and GET ON WITH OPERATING FROM A PLACE OF EXCELLENCE, AND RESPONSIBILITY TO WHO AND WHAT YOU ACTUALLY ARE.
Plus plus:
(OBVIOUSLY)
WITH BELLS ON.
And the truth is …
Some of us actually came to pour forth a thing on REPEAT, and that is way way wayyyyyyyyy easier for us than trying to figure out endless marketing or biz growth what nots that we actually don't care about and deep down do not believe we should HAVE to.
Being a high level creator, and a tapped in messenger the likes of whom truly only comes around once or twice in a generation, is not something you should be SIDELINING, or 'MAKING FIT, because you bought into the idea that what you're REALLY here for is a proper-little-preneur business in a box.
I want to work with you live for 10 weeks of straight 'held to the fire 'til you become the fire' mentorship to activate what already IS within you and frankly SHOULD be being demonstrated all around you.
You already know the level you've been playing at, or seeing yourself 'soon' able to grow to is honestly just – no.
The truth is as you've always suspected, yet been afraid to fling yourself so fully at that there IS no return:
THE LINE WILL SHIFT TO WHERE YOU DRAW IT.
And in Show Up. Shape Up. Shift Up?
We're simply gonna draw it where it should be.
We begin next Monday gorgeous.
And?
It's the place you're meant to be.
Now don't forget –
Life is Now. Press Play!
Kat