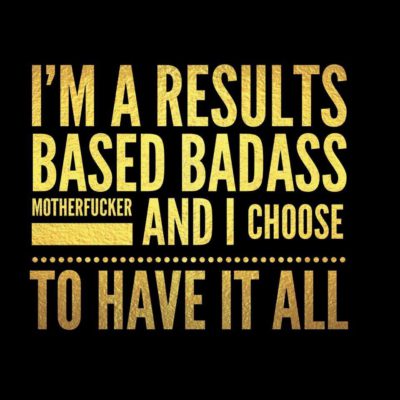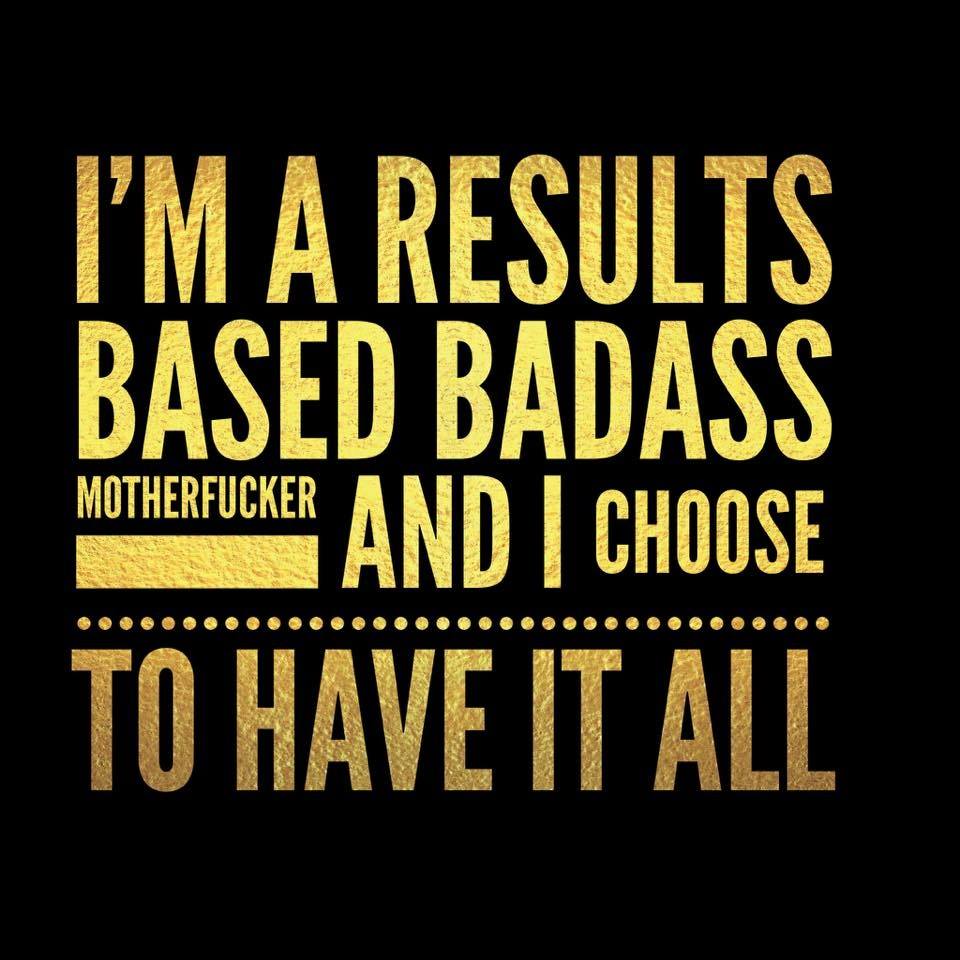 Success is an energy, an emotion, a feeling, a VIBE. You're either in that zone and you KNOW you're fucking rocking it, nothing can stop you, nothing would dare to even TRY, and everything you touch or even THINK of breathe of consider OBVIOUSLY just works –
Turns to gold –
And duplicates like a mofo –
OR:
You ain't in that vibe, nowhere close, you're pushing pushing PUSHING that shit up a hill but it just NEVER SEEMS TO END and as far as you come you wonder if you're even moving at ALL!
When you're in the success vibe you act fast –
From the gut –
You ALWAYS know the right decision to make –
Things come together like MAGIC –
Creativity just flows out of you –
It FEELS more fun and you ARE more fun and you're EASILY able to deal with and release anything NOT fun, not working, not right.
When you're operating in the VIBE of success you basically just KNOW you are here to dominate and rule, and the world therefore HAS to conform itself TO you, to your expectations, desires and musts, rather than the other way around.
When you're NOT in the success vibe you're like a sad little lonely loser looking through the window of a cool party you were never invited to, can't get into, KNOW you don't belong at. No matter how hard you look or even KNOCK, no matter how desperately you TRY, the answer is going to be that you somehow still find yourself on the outside looking in. Wishing and wondering yet still KNOWING:
Not for you.
Would you like to know how to make success FOR you, every damn day?
Do you want to know how to get your success VIBE on?
Are you sick and fucking tired of being on the outside looking in on your OWN LIFE?
There IS a solution and the great news is that it's an easy and a simple one. The success vibe, the energy, the fun, the flow – it's a choice.
And here is how you choose it, and ALL you have to do:
Give it everything baby.
All you have to DO is give it EVERYTHING.
Every day.
For the rest of your life.
"But I do Kat!", I hear you shriek! "I give it my ALL! I work and I push and I show the fuck UP and I follow what you say and I really really REALLY am trying to get my shit DONE!".
Yes.
I see that.
I see you working and pushing and doing what others do, even what I have done, to get your message out there and get seen and get heard and get PAID and get to live your freaking LIFE on purpose.
I SEE you, outside that window, knocking and trying to get in.
Not realising that the golden ticket, the ENTRY pass, the automatic YOU BELONG in the successful group checkmark is for you to STOP FUCKING TRYING. Stop COPYING. Stop assuming there is a PROCESS and that if you just replicate it, and everything LOOKS right, has the right TONE, that you'll get there and that you did enough.
You're not doing enough, until you go all in at being YOU.
You're not doing ANYTHING, in fact, until you give EVERYTHING, to you.
Do you know what this means?
HONESTY baby.
Fucking honesty.
Stop WORRYING about what anybody else is doing, even those you admire.
Stop WAITING for when you've built your name or brand to where you can truly show up and lead.
Stop KIDDING yourself that holding back on your true work, your art, what you want to say and how can wait another freaking day, whether it's for fear reasons, or busyness, or ANYthing else.
Go all in.
Go all in.
Go all in.
If you were already THERE, at the top where you dream of being –
If you had the business, the body, the money, the lifestyle, the LIFE –
If people looked to you BECAUSE you are you and all you had to do was show UP and be you, fully, unfiltered, the REALLY crazy full-on powerful version of you –
And you'd already PROVEN to yourself that that worked and now it was basically a RESPONSIBILITY to keep doing it, for your tribe –
What would that look like?
If you were honest with yourself about what you REALLY want, to buy or be or do or have, what would THAT look like? And would it match up to the 'cool goals' you write down each day?
There's no point writing out your REALITY, and saying you want to make 'x' amount, do this or that or the other thing if deep down there's no REASON for it.
Honesty baby.
Fucking honesty.
What do you REALLY want:
To be –
To have –
To do?
What is it that is IMPORTANT to you?
To spend your time on –
To feel –
To create?
What is it that MATTERS to you –
In your business –
In where you spend your time –
Your energy –
Your emotion –
What do you give a fuck about, truly, what do you feel it's meant to be about, REALLY, what would the success vibe actually feel like to YOU?
Stop chasing cool goals you THINK you should want.
Stop looking for a way to REPLICATE success.
And if you want to know what the vibe is, and how to snap into it?
Ask yourself what success would actually feel like –
Look like –
And be like –
For you.
Then simply insist on THAT vibe now. And show up create live breathe DEMAND accordingly.
Don't forget –
Life is Now. Press Play.
Kat x

PS
1:1 INTAKE IS OFFICIALLY OPEN!

🔥
Next Level Empire is officially open for late November intake! 💜
I'm calling in my next intake of driven badass LEADER women who want to work with me 1:1 to FOLLOW SOUL and achieve ALIGNED AF fame, income growth, more.
Yeahhhhhh … this is about unapologetically claiming your place as one who is MEANT to be seen and heard by everyone!!
Next Level Empire baby!
Multi 7-Figure Empire Expansion For Unapologetically Badass & Driven Women Who Are Ready to Be Seen By the WHOLE Damn World
6 weeks.
1:1
You and me
This is for the women who already have a message, an audience, and are making money online and who are now ready to put some damn WHEELS on the thing.
We will be going deeper into message clarity
We WILL be nailing down what you're selling, and how you're selling it, for maximum conversion and flow
We WILL be getting you fully connected to the badass leader within who KNOWS she is meant to run the damn thing
But these things are just the warm-up, because let's face it –
You already message
You already show up
You already sell
You're already ROCKING what you're doing right now
So what you're here for, and what I'm here for with you?
Is to blow the damn thing up.
MAXIMUM reach.
RAPID growth of audience
MASS visibility
MEDIA TAKEOVER
NEXT level leadership status, and being the one who is KNOWN as the Queen
And sales EXPLOSION
I'm taking what I'm doing in my business to CONTINUALLY claim my place at the top, and to take my message to the masses whilst also RAPIDLY growing following and income,
And showing it all to you
Exactly how we do it
What precisely is in place
What we had to have in place for it to work
What we do day to day to elevate fame, income, purpose, ALL of it
And then I'm going to work with you personally to roll it out
Next Level Empire baby:
For the women who were born for more,
And who are done with circling repeatedly around the same damn pond and kidding themselves they're gonna find it there.
Ready, and know it's time? It just might be 

😉

💜
PM me now

for the full overview, and to know if it's for you. x