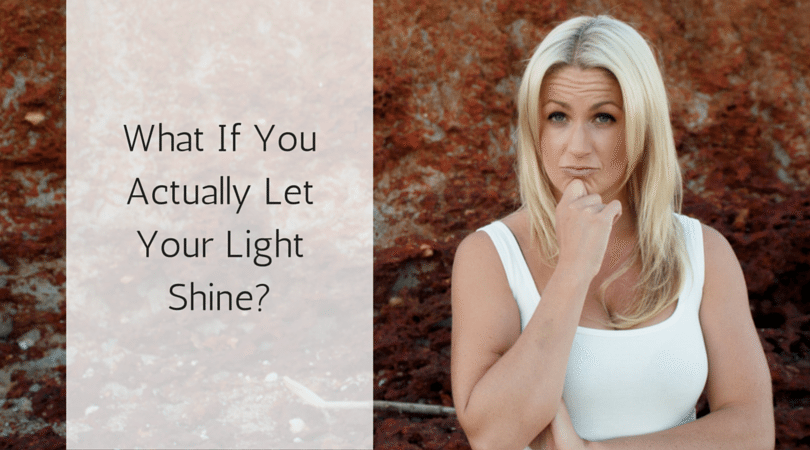 To what degree, if you're being TRULY honest with yourself, would you say you're actually letting your true message shine?
Have a think now –
If I came to your website –
And read your About page –
Looked at how to work with you –
Checked out your blogs –
Stalked you down on social media –
Listened to your free trainings, or scanned through your latest promos –
Maybe even TALKED to you (I KNOW, revolutionary!) –
What would I have to say, do you think, about you?
Would I know EXACTLY who you are?
What you STAND for?
What MATTERS to you?
What you believe in as much as life ITSELF, what you would in fact DIE for?
Would I know where you've come from, what your REAL "backstory" is and how you got to where you are?
Would I know the sacrifices you've made, the battles you've fought, the times you've fallen again and again?
Would I know your STRENGTHS?
Would I know the challenges you've overcome, the beast you've stared in the eye and the way you have broken through and WON?
Would I know your deepest darkest fears and your GREATEST desires?
Would I know what you really … REALLY … want, and also what you want to see happen in the world?
Would I, when I look through the YOU that you're giving me, showing me, selling me, ALLOWING me to see, actually know YOU?
I believe that the vast majority of women are hiding their true selves from their online families.
This is not because, as logic might deem okay, they want to keep certain things private.
That's fine.
What we're talking about HERE though, is the hiding – the MASKING we should really call it – that comes about because of fear, self-doubt and a lack of God damn CLARITY about who you even are and what you stand for.
You SAY you want to make a difference in the world, play big, go ALL the way, but yet you give me bits and pieces, dribs and drabs, a few ideas to grasp on here and there and it shows me maybe a FRACTION of the power that is within you.
MAYBE a fraction.
You say you're a leader, a revolutionary, you're going to change the world and that you have a MESSAGE.
Well where IS it honey and WHEN are you going to actually give me the real VERSION of it and not just the freaking cliff notes?
You say you're going to change people's lives, that you want to do the deep work, that you're CALLED to create transforMATION.
But yet you're out there teaching how to do this and let's do that and join these dots and follow this SYSTEM.
You say you want to live fearlessly, be free, live from a place of soul purpose and FLOW.
But yet you live in fear, you're bound by chains you've placed upon yourself, and your actions, much of the time, come from a place of should and what if and I must.
It's enough now.
Do you hear me?
It's fucking ENOUGH now.
This is your LIFE.
This is your one SHOT.
And the reality is – and you freaking know this, which makes the whole thing all the more LUDICROUS that we should even be talking about it! – there IS NO WRONG, you can do whatever you choose, there are no God damn RULES about success or about life or about money or about business or about ANYTHING except YOU NEED TO BE YOU, and what's more than that the WORLD needs you to be you.
So why –
When you know all of this –
And you've said it to yourself so many times –
And your soul is PLEADING with you –
Do you continue to let the days just FRITTER away?
Oh, so you're scared, you're not sure, you don't know how, what if this, what about that, what will people think, you can't possibly, you don't have time, you can't afford to right now, you just need to –
What?
Keep living your life like you don't believe you have a say, a right, a choice, a PURPOSE?
Because that's what you're doing right now.
And for every day –
That you hide your light –
Yet again –
And play it safe –
You reinforce. To God, to the Universe, to everybody around you and to YOU –
Which makes it all the more likely –
That you won't.
And one day –
When you least expect it –
And you truly didn't see it coming –
And you thought you still had TIME –
It will be over.
And you will be gone.
And the world will remember a nice person, a good person, an inspiration, someone who made a difference.
And when I say the world, I mean the small circle you allow yourself to impact right now.
And when I say someone who made a difference I mean nothing at all really because it doesn't freaking MATTER if it's not the difference you were born to make.
What is the POINT if you don't go all out?
Why do you even BOTHER?
Why don't you just go and get a JOB? At least that way you can spend more time sitting around, hanging around, letting life pass you by and actually ENGAGING in that shit and doing it consciously.
Because right now you're doing it anyway.
And how does it feel –
No really, how does it feel?
To know you have something so damn powerful you can't even BEGIN to comprehend it or explain it and to know that if you were to truly UNLEASH it you could truly change the world –
But to go about your day like you're nothing but a sack of flesh and bones waiting for the final bell to toll.
NO REALLY, HOW DOES IT FEEL?
And when, for the love of GOD, are you going to be DONE with feeling what you're feeling right now?
With the frustration, the irritation, the apathy, the ANGER that resides within you, and you think you're angry at others, you think you're annoyed about money or about time or about the fact that you still don't have the house you want but what you're REALLY ANGRY AT IS YOU.
And sometimes you just want to rip your own HEAD off and see that the frick is actually going on in there to make you into such a MOUSE.
But really, none of this even matters, does it?
Because what you're going to do –
Like everyone else –
Is get fired up by this post –
Or pissed off, possibly –
And I could care less whether it's you or it's me you're pissed off at –
Because either way, at the end of THIS day, WHAT WILL HAVE CHANGED IS NOTHING.
That's what people DO.
That's who they ARE.
AND YOU ARE ONE OF THEM.
And you can jump up and down ALL you like and say you're different but ARE YOU DIFFERENT AND CAN YOU PROVE IT?
Are you DOING different?
'Cause talking about it?
It counts for SHIT honey.
So grow up.
STAND up.
Turn ON that big bold light of yours.
Hang out a freaking SHINGLE for heavens sakes!
Make an ANNOUNCEMENT.
Do SOMETHING.
STAND for something.
Stand for what you believe in.
Stand for TRUTH.
Share your MESSAGE.
Do it PROPERLY.
Let me SEE, when I come to see you online OR off, who you really are and what you're here for.
Let me KNOW you.
Let me PARTAKE of what you have to offer.
Show the world.
Share it ALL!
Start TODAY.
Act like you know it.
Or seriously, just stop BOTHERING. The world NEEDS people in jobs. The world needs people to SUPPORT the leaders. The world needs WORKERS.
So if you're not going to step up and BE the leader you are, then get your toes out of the big girls pool now baby.
All in.
Or not at all.
Changes to make?
Bandaids to rip?
What are you waiting for?
Life is Now. Press Play.
Kat x
PS The world needs LEADERS who are actually LEADERS.
The world needs women on a mission to SHARE their mission.
The world needs you to UNLEASH your true message and start being the difference you were BORN to be.
More than that –
YOU need you to unleash your truth and start doing you.
I help revolutionary leaders, entrepreneurs and game-changers step out of their own shadow and live all out. If you want the success, the happiness, the money, the joy, the knowing, the POWER, the PEACE and the FLOW that comes with living the life you were born for, then what are you WAITING for? NOW is the only time you have.
Press play beautiful. Apply here: www.katloterzo.com/apply
Life is NOW!
PS
Expansion.
10 Days of Live Soul Transmissions, to Help You Find and Follow the Messages Within
Day 1) Trust
Day 2) Certainty
Day 3) Self-Belief
Day 4) Empire Creation
Day 5) Your Deepest Message
Day 6) Following Soul Guidance in All Areas
Day 7) Faith vs Fear
Day 8) Accessing Flow, and Superflow
Day 9) Expanding Time
Day 10) Expanding Money
Every day will be a LIVE soul led transmission.
This will take place on Facebook video, held at a variety of times in order to account for varying time zones, and scheduled only once we have begun. Our daily soul transmissions will be guided from MY higher self and directed from and for YOURS, to help you find and FOLLOW the messages within. The messages of your spirit, your consciousness, of the who you've always been and yet have managed quite well to cover up a lot of the time.
This is about stripping away –
And getting back to the CORE.
We'll dive day by day into the above mentioned areas –
And you'll receive all content and bonuses to keep for life.
There will be daily spirit prompts which you'll receive after each training.
And plenty of time opportunity connect with me throughout, receive transmissions direct to YOUR questions, and absorb more even than what comes through on the trainings, via the energy we'll create in this collective!
It's very rare for me to know in advance exactly what is coming through day to day.
I certainly don't have the details of each day's content. But I know that these areas have been on my heart to talk about, in particular around belief, around certainty, around living from FAITH.
We know that exactly what is meant to come through for you WILL, and then some. And that if you intend and allow for it to, it will change, most likely before we even begin, due to your energetic commitment, the direction of your LIFE!
Meaning: direct it back to absolute soul alignment.
*** NEVER Seen Before Bonus! ***
As part of this, I've been guided to offer a NEVER before seen bonus … one I feel super vulnerable about sharing!
It's the exact journaling I did to allow the download of THIS offer through. How I allowed the idea to bubble up. You'll see my doubt, uncertainty, annoyance. You'll see what I discarded. How I went through the layers. And how I KNEW, this was the one.
I'll ALSO add in copies (screenshots) of my conversation with my COO Ash, where I was talking through the idea and allowing it to come to life.
I want to show you the exact Idea to Launch process!
This bonus alone is EASILY worth the cost of this program, particularly when you hear the mindset side of it, in terms of STAYING THE COURSE and refusing to back away from my self until the idea showed up!
I refuse not to create!!
AND, when you register for EXPANSION today (and how could you not?!) you'll also receive early access to the Pre-Work. This is ALSO never seen before, and brand new just for you – and it's a guided meditation on remembrance, to help you connect back to deepest self and the most certain truth of your destiny, before we even begin.
Perfect priming, for when we expand RAPIDLY into all that is coming through in this work!
Of course I could now go on and on here, about what I could or should have charged for this, and what it's actually going to be …
Or about all my accomplishments on line and off, with money, with purpose, with passion, with flow …
I think you know all this anyway. Even if you just me! Your soul feels what matters. And that's ALL that matters.
But I will say this:
You've always known it's supposed to be about ALL that is inside of you. That it's meant to COME from a place of purpose, passion, and SUPER super flow. And that if you just.freaking.trusted, and showed up FULLY from that place, you'd be living in a different reality already.
THE ONE INSIDE OF YOU.
If that's true for you right now, then LET'S GO CREATE THAT REALITY.
Right now
Press play for regular, (super fuck yes!!) upfront or payment plan
OR
Press play like a VIP, and receive the full course, plus 10 days direct photos or screenshots of my ACTUAL personal journaling, so you can see how I create and expand my life, PLUS a VIP only follow-on live Hotseat, where you'll receive a personal transmission just for you, if you'd like one! Payment plan also available.
>>> https://thekatrinaruthshow.com/expansion
We start Monday 17 December, US time!