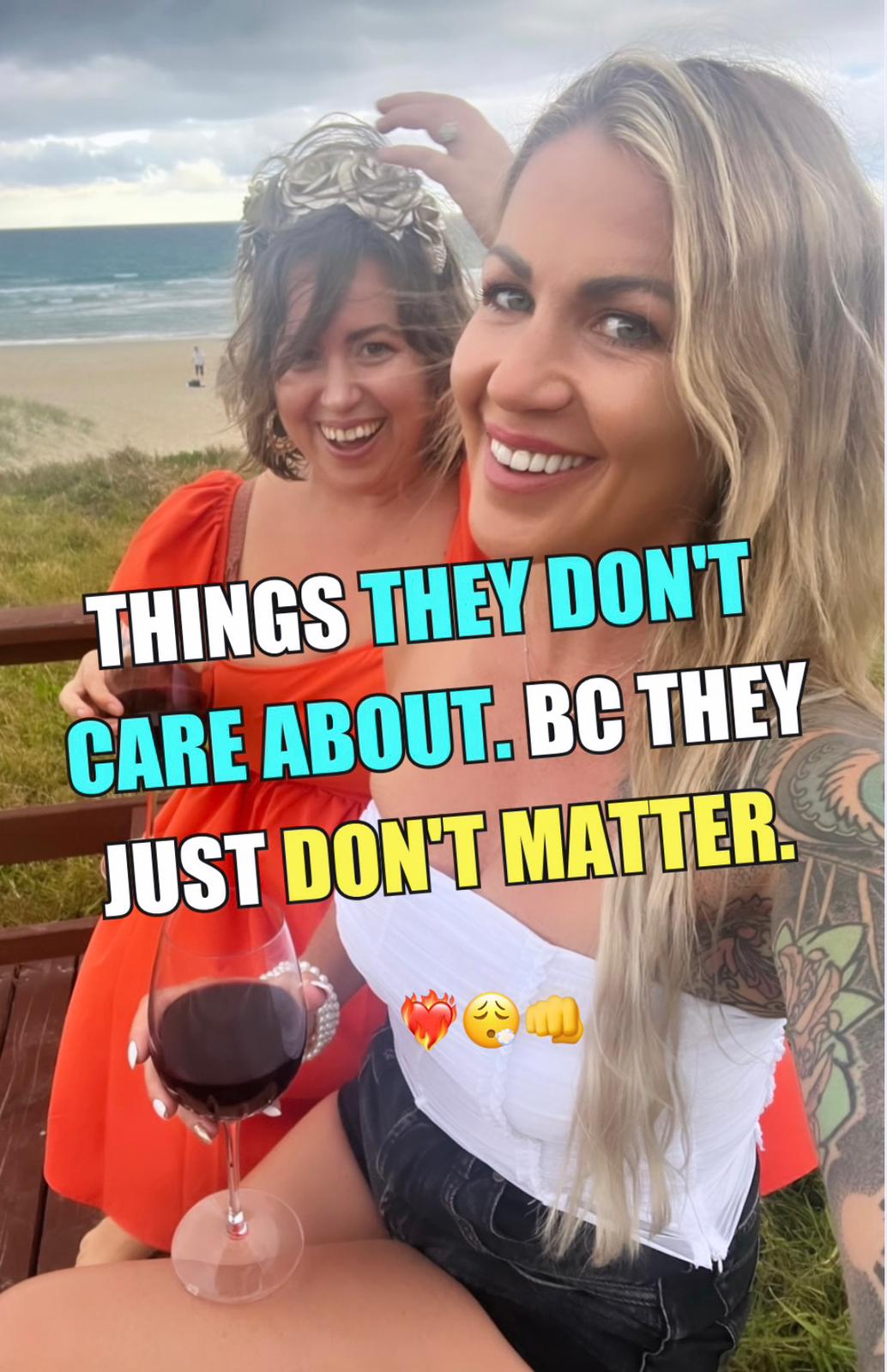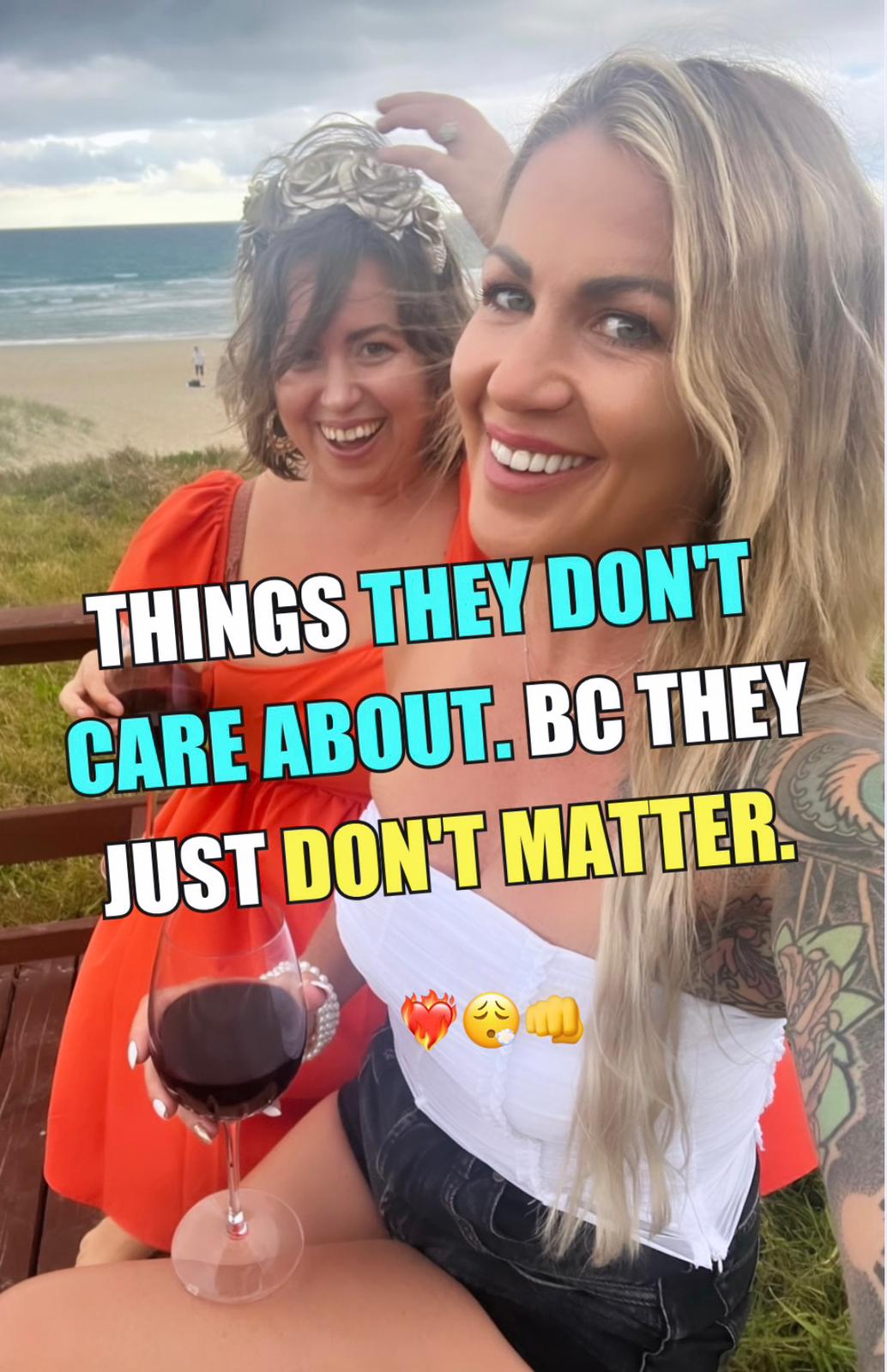 THEY DON'T CARE
You're so wrapped up in your idea of who you have to be that you've no idea who you already are.
You're so consumed by where you're not that you don't realise what would be springing forth right beneath your feet if only you stopped and looked.
You're so terrified that everything your truest self has told you about who you are is not true that without even realising it you are CREATING an image of you, a counterfeit, a house of cards, to PROVE it.
You're so distracted by everything everyone who is NOT you says you should do that you never let the real genius and flow out because you simply don't take time for it and really … that's all it needs of you. There is no other do. But just to drop in and BE you.
You're so readily pulled this way,
or that,
all over the place,
hyping yourself up with everything so you actually think you WANT to go where you're running
that you barely even notice
the ticking
the ticking
the ticking
of the thing inside of you which you continually deny and REFUSE to let out
about.to freaking.BLOW.
And here is what it comes down to really
What YOU need to hear right now which is about THEM but really?
it's about you.
THEY DON'T CARE.
THEY DON'T CARE.
THEY DON'T CARE.
AND IT DOESN'T MATTER.
IT DOESN'T MATTER.
IT DOESN'T MATTER.
Because here is what is NOT needed.
You, with the level of supernatural tapped-in-ed-ness that YOU have. With the ABILITY you have to just have something come THROUGH you, in a way that has NEVER been seen or known and yet it is just RECEIVED and is an IMMEDIATE integration and activation –
What they do NOT need from YOU of all people is for you to sit there in front of your laptop and try to figure OUT how to make the next 100k, 10k, 10 million, or whatever it is. Or to build a business or try to structure something or fix your website or WHATEVER.
Who cares?!
People who are not you, that's who cares!
People who do not understand this level of tapped-in-ed-ness, that's who cares!
People who need to paint by numbers, that's who cares!
People who are NOT your ideal clients and who are just gonna give you a hard time and drain the ever loving …
They don't even care! They just think they do!
It doesn't matter what year we get to here. Oh, it's 2023, we need to be so perfect. No. That ship sailed a long time ago. Have it, don't have it. Whatever you WANT. But it doesn't MATTER. It is OPTIONAL. And ONLY a yes if it IS a true yes, in YOUR soul!
It doesn't matter.
I've done this stuff every which way. High end hotels to trashy carpark in the literal ghetto. Looking the shit to feeling like shit and looking it too. I've made money every which way. ANY way. In the most random or honestly plain low vibe environments too. Or the most fabulous. WHATEVER. It was ALL whatever.
None of it matters.
The background doesn't matter. The vibe doesn't matter. The filter doesn't matter. The get up doesn't matter.
Nothing matters. Your website doesn't matter.
It doesn't matter what time your calls are at.
It doesn't matter how your course is structured.
It doesn't matter what the structure is.
It doesn't matter what the features and benefits are. Or the testimonials.
NONE of this stuff matters. It's all fine, nice to have. But it's all OPTIONAL.
It doesn't matter that you got off track and rambled all over the place.
It doesn't matter if you're making any sense. Or lost your place or made a whole new place and 20 minutes just passed in the middle of your live training and now you can't remember what your point was.
It doesn't matter that you have stuff backed up for years you thought you'd have organised by now.
It doesn't matter that you have a perfect sales page that got spat out the vagina of a perfect marketing machine. It doesn't matter.
It doesn't matter if you've got a freaking clip art page! Do you get it? All of that stuff is NICE TO HAVE. But ONLY if you want it! Have it don't have it! Here's what matters –
That the thing that is coming out of you … did not come out of the vagina of a perfect marketing machine! That it is REAL! It is RAW! It is YOU!
Just letting whatever is in her OUT, the way it COMES out!
That's who WE are. And the world could be crumbling around you and IT DOESN'T MATTER. Because you're just having a good time being YOU.
And THEN what happens, huh?
MORE OF YOU SHOW UP. THE SOUL PEOPLE. THE YOU PEOPLE. THE PEOPLE YOU CAME HERE FOR.
And they for you.
Do you get it?
Do you KNOW how much your work is NEEDED? Your REAL work? Your FLOW work? The work where YOU LET IT ALL BE STRIPPED OFF AND JUST DROPPED THAT REAL FLOW, THAT SUPERNATURAL FLOW, THAT WHAT EVEN IS THIS FLOW?
It happens when you just STOP.
The madness.
Just STOP.
The caring.
About things you and anybody who you're here for flat out don't care about!
And when you just TURN –
exit stage left.
AND WALK ON TO THE RIGHT FREAKING STAGE.
BAAAAAAABBBBBBEEEEE –
It's only what the world is waiting for.
Stop giving your life for stuff YOU DON'T CARE ABOUT.
THEM NEITHER.
And?
Snap through the business life and YOU it was always gonna be.
NOW DON'T FORGET – !
Life is Now. Press Play.
Kat
PS.
Babe! The Play Life #Rulebreaker Society Module 1 just DROPPED and was 2 hours of supernatural FIRE that will instantly REVEAL you back to who you are, such that it actually becomes DONE! Like … NOW.
> we are talking supernatural REALITY, brought through. Not some kind of made up idea of who you COULD be, or the business you SHOULD build, but instead – going into a place where there IS no building because what IS –
is!
AND THEN WE JUST SNAPPED IT THROUGH.
If you do ONE business course this year with me … DO THE ONE THAT IS BUSINESS EXPLOSION BECAUSE YOU GOT YOUR YES RIGHT.
#wedontbuildweflow
AND WATCH MIRACLES UNFOLD.
It's only what it was always meant to be … what you know it SHOULD be … and what we now choose it WILL be.
And then?
You just freaking did.
LET'S TEAR IT ALL DOWN AND BUILD SOMETHING ACTUALLY FUN!
www.thekatrinaruthshow.com/playlifesociety
Doors close in just over 24 hours. DO NOT MISS. YOU'RE SUPPOSED TO BE IN.