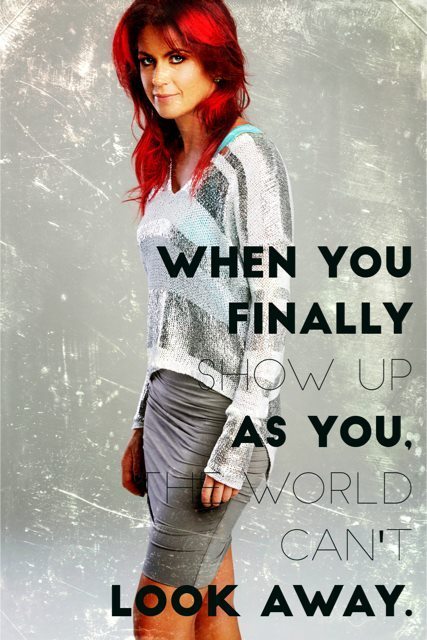 When I am doing the work I'm most called to do, the truth is I really don't care about getting paid for it.
Don't get me wrong, I'm not going to say NO to getting paid ever-more for doing my purpose work! The opposite, in fact, as when I look to the future I see quite clearly that, as my fame and impact rises, and my ability to be able to personally connect with all of my followers reduces, and also just because I know this is what is going to HAPPEN – and already is – my high-level clients will be the world's most elite and successful.
The stars, the performers, the leaders, the entrepreneurs, the revolutionaries who are changing the WORLD.
I work with the 1% within the 1% baby, didn't I tell you?!
But at the same time, when I think about the message I truly want to get out there on a global scale; my message to impact MILLIONS, and then I ask myself what to CHARGE people for sharing that deep deep MOST deep knowledge from my soul, my soul simply shrugs it's shoulders at me.
"What does it matter?", is all I can think.
"Why would I need money for that?"
"GIVE IT ALL AWAY!"
The truth is I was always going to do exactly what I DO now get paid hundreds of thousands of dollars per month to do.
I was always going to be me, eventually.
Don't you think that eventually you're just going to figure out that if you wanna make it to the top, and also love your freaking LIFE, then you're just going to be you?
It's the easiest and most logical way, I promise you!
The crazy awesome WONDERFUL thing about it all is that the more you just do you, just be you, heck just SELL you, the more your star will rise.
Your fame will grow.
The world will want to court you.
And the money will FLOW baby, and then some.
But the thing I've found is that in order for that to happen you DON'T NEED TO GET DESPERATE ABOUT IT.
In fact I'd say it's pretty fucking critical that you DON'T get desperate about it! Money runs from stalky behaviour, I can tell you THAT from hard-won personal experience!!
But also, really, and you really have to GET this if you truly want to MAKE it:
How much money you make and how much of YOU you show up with each day are two separate things.
DON'T ASK YOUR ART, YOUR PASSION, YOUR PURPOSE, YOUR SOUL WORK TO MAKE MONEY FOR YOU!
Two separate things honey.
Two separate things.
I set BIG money goals each month, each week, each day, and I damn well ALWAYS hit my money goals.
But that has NOTHING to do with my message, my purpose, the work that I do.
Money will flow when you ask for it to, and CHOOSE to believe that it can. It will flow when you stop making it into such a BIG FUCKING DEAL. It's only money, honey. It's like AIR! Imagine if you walked around all day desperate for air and just refusing to BREATHE!
Just breathe gorgeous.
BREATHE it in.
I KNOW this is annoying, infuriating even, to hear, if you don't HAVE money flowing in and through and out and all around you yet.
BUT THAT'S BECAUSE YOU'RE TRYING TO EARN IT.
You don't have to fucking EARN the right to breathe.
Let it in.
Let it out.
Let it flow in and through and from you.
It's ALL AROUND.
I can PROMISE you that when you 'get to rich' you'll realise how freaking DIFFICULT you made it for yourself and you'll wonder at why you didn't just take a breath sooner, relax about it, stop trying to hold ONTO it so much.
Let it in.
Let it out.
It doesn't matter!
THERE ARE INFINITE AMOUNTS AVAILABLE TO YOU, take as much as you like!
Breathe.
But when it comes to your soul work –
Your PURPOSE work –
The work that you and ONLY you can do, the work which if you do NOT do will never be gifted to the people who you came here to impact –
Don't you fucking DARE tell that work to make MONEY for you.
You do the work because the work must be done.
You do it because your soul can't NOT.
You DO it because it's your responsibility to USE THE GIFTS WHICH YOU WERE GIVEN.
You do it because what else were you EVER really going to do, in the end, if you weren't going to be you?
You do it independently of the money that would flow from it, and that is the TRUTH.
Everything I do when I'm most in my purpose, my writing, my speaking, impacting my clients at a SOUL level with the deep reveal work that comes from my most powerfully transformative sessions, programs, etc, I ALWAYS DID THAT.
And I will CONTINUE to always do that, for as long as I live.
If I NEVER made another cent online – or off – if I had to live NAKED IN THE STREET with nothing to my name I can PROMISE you I'd be talking about alignment, about taking massive fucking action, about the truth that you can have it ALL baby, if only you'd do the work, about pressing PLAY!
I'll never stop.
It's what I came here to DO.
It's why I allowed myself to sink into over 100k of debt before I DID figure out how to breathe money in, because no fucking way in hell was I going to back down from doing the work I knew I had to do.
NO FUCKING WAY WAS I GOING TO CONFORM TO A WAY OF BUSINESS, LIFE, ME that in ANY way required me to not BE me.
Are you doing that?
In any way?
CAN YOU REALLY AFFORD TO KEEP DOING THAT?!
This right here is your LIFE, gorgeous. This is NOT a dress rehearsal.
IT'S NOT SUPPOSED TO BE ABOUT CHASING A BUCK.
I would have taken that debt to a million dollars+, if I had to.
FORTUNATELY I figured out the truth, which is basically the biggest and most EPIC fucking secret of success out there, and at first might seem to contradict everything I just said about not making money from your soul work.
And the truth is this:
When you step into a place of PURPOSE –
When you say yes to doing the work you were BORN to do –
When you SHOW UP AND SERVE as you were always meant to –
When you FINALLY give yourself over to being you –
The money flows like a tidal fucking river and you can't stem its power if you try.
You CANNOT create wealth from a place of the wrong service.
You WILL create unstoppable wealth, impact, legacy, and a life of TRUE soul fulfillment and joy, when you step INTO the right service.
Into your purpose baby, and into letting out ALL of what you came here to do.
YES you still have to breathe it in.
NO your soul work doesn't have to make you money, and technically it doesn't, as instead what DOES happen is simple:
When you do the work that only you can do –
And you do it fully on your terms –
And you stop GIVING a fuck about whether or not it makes you money –
And you make a DECISION to just get rich, famous, create the fucking IMPACT you KNOW you must –
THE WORLD CAN'T LOOK AWAY.
So how do you know, that you've found this true work, this soul work, this work that only you can do?
You don't care if anybody pays you for it.
Not now.
Not ever.