Write It Real
Midway Intake Now Open!

An All New 30-Day Live Interactive Course with Katrina Ruth – to Boldly Claim, Say Yes to, and Write Into Reality Everything You Know is Yours, Now!
This is not the kind of course where you learn some things, are shown some things, shout 'yasssss Queen YAS' on a bunch of things, feel shivers and shakes from the inside out as it reverberates in your soul, and then?
Do precisely sweet FA with it because hey – ! It's a busy week, a busy month, there's too much going on right now to fully implement, and besides –
Your shit is coming up so damn hard it's just plain messy and frankly, you're not entirely sure you can handle dealing with it right now.
This is not one of those courses you get some kind of feel-good transformation out of, a dopamine hit or three, and a somewhat heightened level of assuredness that yes – what you feel inside is real, available, available somewhere in time and space for you, how exciting!
This is a course where from day one – and then every day afterwards, for 30 days in total, you will be actively bringing what is inside of you to LIFE.
Writing.
It.
Real.
This means that the writing work I will be doing with you and giving you each day is, in and of itself, and ENTIRELY – the 'work' bit. We are creating VIA our Writing It Real. We are not writing lists of things to do, figure out, build from. The writing IS the work. The writing IS the creation. This is EXACTLY how I have done it for decades now. And it is where every single amazing, wonderful, and life-changing thing, physical, emotional or otherwise, has come from.
No exceptions.
In Writing It Real you will be doing:
Daily visioning and identity exercise (delivered via audio, video, or in written form)
Daily theme or focus (on creating, receiving, clearing, activating, paradigm shifting, and so on)
Daily guided 'Write It Real' journaling (I'll walk you through, explain why we're using this approach, and then show you how to action it in your own journaling)
Daily examples of what writing it real looks like (from my own journaling)
Daily realignment and 'dialling it further in' exercises (to ensure you are building day by day and writing it real ever more specifically)
Daily flow on action plan (I'll show you how to identify any required action to be taken for the remainder of that day, to follow on from what you are creating with your writing)
Telegram chat thread for support, alignment, asskickery and accountability (not to mention sharing everything you are bringing to life as it happens!)
SEE what you write literally come to life before your eyes during this time together!
This is the simplest work I have ever created,
and simultaneously the deepest, most powerful, and most transformative.
It's about the fact that all the planning, strategising, building, working towards and doing in the world – even if based on the very best teachings and learnings – will not get you to where you want to go and where you are meant to be if you are not connected in to what is there for you,
and actively choosing it.
This is about INTENTION.
CHOICE.
AUDACIOUS SAYING 'YES' TO.
And literally WRITING YOURSELF INTO BEING THE PERSON WHILST WRITING THE INS AND OUTS OF WHAT THAT PERSON HAS AND DOES AND IS, REAL.
This is about expanding time and space, collapsing the creation or 'fruition' time of your goals, and knowing that has you go forth throughout your day, your efforts are paying off and growing your results FROM a place of having truly anchored them in and chosen them –
as opposed to that you're continuing to work your butt off and be the busiest, most seemingly productive, most willing and even perhaps most able person in the room …
yet with nothing like the results you know should be there for you.
Write It Real is based on 35 years journaling experience of my own,
20+ of which has been actively aligned to consciously creating and bringing to life what I see inside of me, and what I desire,
and we're talking about a 5-6 day a week MINIMUM habit here.
In other words …
I know what I'm talking about when it comes to intentional and result based journaling, inner work, identity work, and WRITING THINGS REAL.
I know how to base it on what is available.
I know the threads to pull on.
I know how to see what gets to NOW be activated.
I know how to snap something from the supernatural into the physical.
I know how to create IMMEDIATE changes, shifts, receiving.
I know how to plant yourself and appoint yourself.
I know EXACTLY what it looks like, feels like, IS like, to simply –
Choose. And then write that choice into a physical reality.
My inner game work is the best in the world.
I can SEE, and show YOU to see, exactly what it is you need to say yes to (and, equally, exactly what it is you need to pull the stop cord on) to create what's inside of you.
I know the exact questions to ask.
The precise exercises to dive into.
The wording which activates your soul.
The INSTANTANEOUS way to clear your 'shit'.
I.know.how.to.write.it.real.
'IT'?
ANYTHING.
YOUR THING.
ALL OF IT.
Write It Real is running
one time only live,
and you can jump in for our midway intake NOW.
The cost is

$555
$333
and includes
your place in the live 30 day class,
PLUS
lifetime access to all content

(uploaded to your members dashboard).
You can also join via
payment plan,
of just $122 x 3.
And, you can receive your entire $333 back should you choose to join me anytime in the next 60 days in my Screw the Rules Mastermind, which is my ongoing membership / and the place to be in my space live and ongoing online!
What does joining a LIVE Katrina Ruth course look like?!
Live means that it is run in real time, with video, audio and playbook + exercise / journal prompt trainings and content delivered to you daily. In this course that will take place in our Telegram chat as well as on the members site!
You'll also be receiving live support through our private group thread and chat,
and there may just be a sneaky live zoom training / Q&A added in! This will be announced the week prior to it taking place if so, and will be at a time to suit a multitude of timezones.
These will always be recorded incase you can't make it in real time.
I can't wait to see you inside!

Here is how to know if Write It Real is where you need to be, and what to invest in right now:
a) You already know
b) Once in a while one of those opportunities comes around to simply DO THE WORK. The actual bringing it to LIFE work. Something which, whilst it will absolutely teach you concepts which will serve you for the remainder of your life, should you choose to continue to come back to this work, is however designed for IMMEDIATE creation, activation, and receiving.
What we will be doing together each day is, quite literally, the 'actual' creating and receiving bit. THIS IS THE WORK THAT WORKS.
It is the work which has breathed life into my multiple 8-figure digital coaching empire.
It is the work which cultivated me into being the woman I am in every possible way, from the physical outcomes of my business and money moves, to how I look and feel physically, and, perhaps most of all, to how my mind operates, what it automatically 'sees', and therefore creates.
It is the work which took me from on a track of continually accruing debt, struggle, uncertainty, to automatically accruing a deeper connectedness to purpose, passion, flow … and also to the automatic accruing of wealth, certainty, possibility, the biggest dreams on repeat brought to life.
It is the work I used to build what I believe to be the most 'soulmate' community anybody in the online space has created, and curated.
It is the work I used to lean into my innate enoughness, and willingness to receive love, and thus the work which facilitated the renewal of my marriage, and the bringing to life of a true 'dream relationship'.
It is the work I use for EVERYTHING.
And there is not A single thing in my life, physical or otherwise, which came from a place other that I learned how to lean in,
connect to deepest truth,
say YES to it,
and then used the tools I have learned, developed, and fine-tuned for decades now, to Write It Real.
Make now mistake:
This is the most transformative identity work, energetic activation work, and practical CREATION work you will ever do in your life.
It creates DAILY results, outcomes, shifts.
You will SEE it working, quite likely from the get go.
It is EXACTLY what has been missing, as you go about your busy life of DOING, and STRIVING.
And it's my most powerful work yet.
How I can know all of this for sure?
It is the work of connecting you to the truest you,
and letting her mofo live.
I can't wait to see you inside,
and do this with you!
Remember –
Life is Now. Press Play!
Kat x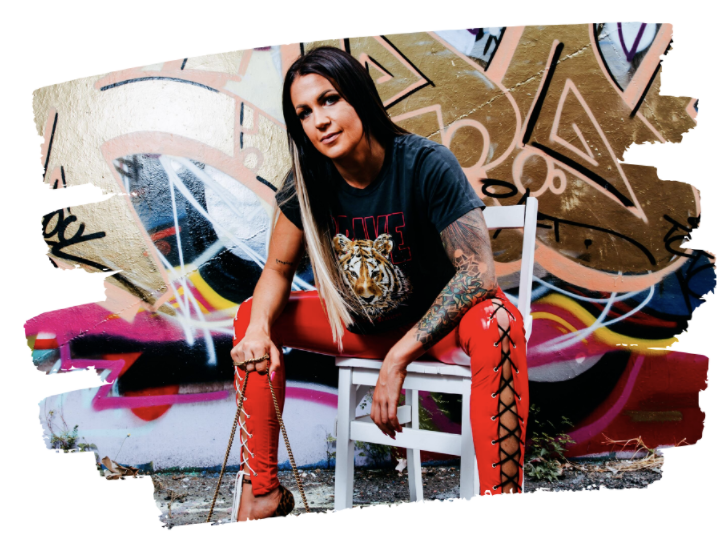 About Katrina Ruth
I'm Katrina Ruth. I'm a self-made multi-millionaire, and I work with successful badasses like YOU, who kick their OWN ass already, who were always gonna do and BE the damn thing, but who maybe want me to kick their ass that little bit harder. I love God, following soul, running EVER deeper into trust, and plenty of strong black coffee and gritty red wine.
What I do?? I flick the damn switch for the called ones, and I get you ALL riled up on your own YOU-ness, as I help you remember who you always were – and then become it.
I currently live on the Gold Coast of Australia, and I'm Mum to my two beautiful children, Alyssa and Nathan.
I also recently got re-married to their Dad, Enzo. We divorced in 2016 and reunited ('out of nowhere, except – of course') and then re-married in 2021! I travel a LOT with my business (sometimes with the fam, sometimes not, a little more restricted these days but still on the go!), and my business allows me to be fully location free.
After many MANY years of not going all in, NOT speaking my truth or doing what I really wanted to do in the world, I finally said yes to purpose and sharing my deep soul message, AND to doing the damn work, and now, well –
Here we are.
I have been fortunate enough to build up an INCREDIBLE online community of driven entrepreneurs and leaders and creators, and each day I get to do what I always wanted to do, which is to motivate, educate, empower and inspire you to press play and create the business and life YOU want.
I've made over $20,000,000 (yes, 20 million dollars) online (and have several other offline companies and business, plus investments!) just by speaking my truth and following the path of my soul, breaking any and all rules that don't feel fuck yes for me, and also – and this is my fave! – really just being ME. Yeah, I might have some fancier stuff now than when I started, but my business was built on, and still runs on, me being the girl who just loves to write and say what needs to be said running around usually in her gym gear as a hot mess, in between being a Mum and wife and just, well, living life!
You do NOT have to be anything other than who and what you already are to create all of this. Other than just that part of you who you've not yet dared to own, hmmm?! But you sure as shit don't need to be polished, prepared, perfect. I'm still not! And never will be. What you do need to be is this:
Ready to fucking claim it. To recognise that yeah, the hardest work in the world is to march into our dreams without looking back, and to choose to be the version of us we know we're meant for, every damn day, with zero availability for anything except seeing it ALL come to life.